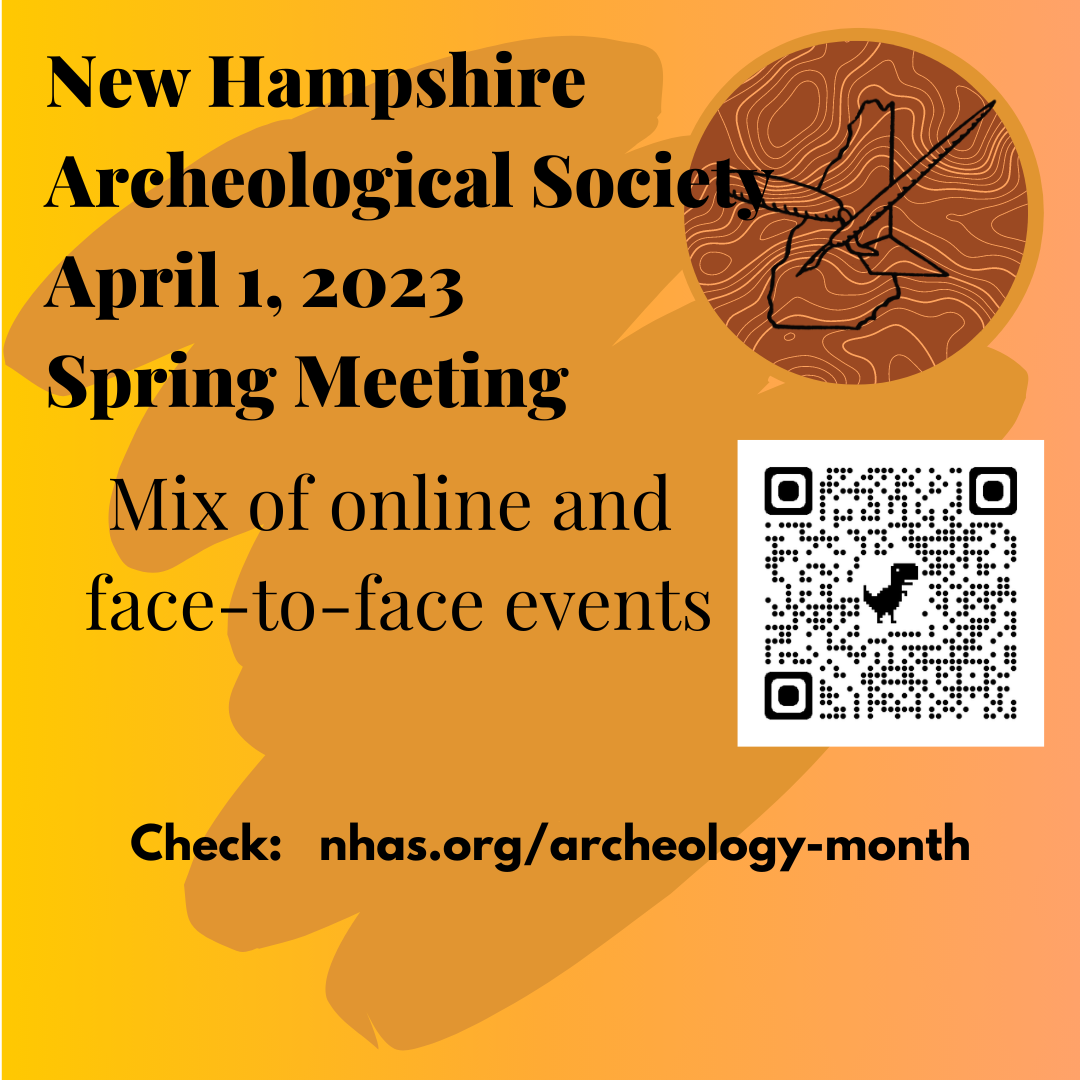 Registration opens at 9 am with sessions starting at 10 am. Registration: $10 at the door. Complimentary with Student ID. All times below are approximate.
9:00 am – Registration opens. Morning refreshments.
9:50 am – Welcome and opening remarks.
10:00 am The Place before the Park: An Archaeological Perspective on our Recreational Treasures.
Mark Doperalski, NH State Archaeologist
A presentation focusing on archaeological research conducted by the NH State Conservation and Rescue Archaeology Program (SCRAP) on the banks of the Suncook River in Bear Brook State Park. Data from the research has not only shed light on Native American life on the banks of the Suncook River but is also helping the State Parks protect and interpret the archaeological resources for future generations.
10:30 am High Above the River: Points, Pottery and a Pithouse in Manchester
Jacob Tumelaire, Shannon Mascarenhas, and Roxanne Pendleton, Independent Archaeological Consulting, LLC
IAC conducted Phase IB testing that identified previously undocumented components of the Amoskeag West Bank site (27-HB-079) in Manchester. A subsequent Targeted Data Recovery confirmed the presence of numerous Pre-Contact Native American cultural features, including a pit house rare in the local archaeological record. Diagnostic artifacts and datable organic material indicate occupation during both the Archaic and Woodland periods, along with a potential Paleoindian component. This presentation offers a summary of our preliminary results, highlighting the most significant findings from the 2022 archaeological surveys.
11:15 am Recent Research at Coastal Sites in Downeast Maine
Dr. Gabe Hrynick, University of New Brunswick
In the 1950s, Ted Stoddard of the Robert S. Peabody Museum's Northeastern Archaeology Survey identified dozens of archaeological sites in coastal Downeast Maine. Since 2013, colleagues and I have revisited many of these sites, examined the curated collections from them, and conducted targeted excavations. Our goals are to better understand what has been lost to coastal erosion and use that information to get a better understanding of hunter-gatherer settlement and subsistence in Downeast Maine. In this talk, I review recent field and museum research from the project.
1:00 pm 'Upside Down' the Peopling of Latin America: a Summary and On-going Research
Dr. Bruce Bradley, Emeritus Professor, University of Exeter, UK.
ZOOM presentation.
This presentation summarizes the current evidence of the early human presence in Latin America from northern Mexico (Chiquihuite Cave) to the southern tip of South America (Fell Cave). It will focus on recent and on-going archaeological research with an emphasis on my own collaborative work, specifically in Brazil and Uruguay. Implications for the peopling of North America will also be briefly discussed. While genetic evidence is important, it is beyond the scope of this presentation other than a cautionary comment.
LOCATION: Manchester Community College, 1066 Front St, Manchester, NH
Also available via Zoom. Register at bit.ly/2023NHASevent
When placing events on your calendar using these buttons, please check that time zone displays correctly.