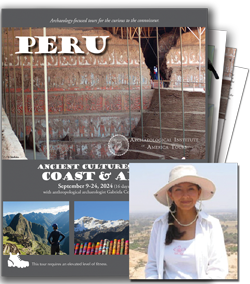 Travel and learn with anthropological archaeologist Dr. Gabriela Cervantes- Quequezana. She has done extensive field research through survey and excavations in several regions of Peru, including the north, south, coast, and highlands. Through illustrated lectures and informal discussions, she will provide an understanding of the numerous ancient Peruvian societies whose sites we visit, and the complex processes of adaption they each made in the many different ecological regions of Peru. This custom-designed, 15-night itinerary is carefully paced with three nights each in Cuzco, Chiclayo, and Urubamba's Sacred Valley; plus two nights each in Machu Picchu Pueblo, Lima, and Trujillo.
Highlights include:
– Gabriela Cervantes-Quequezana plus a professional tour manager and local guides will provide insights to spectacular archaeological sites from Peru's many layers of ancient civilizations, plus anthropological insights to the
country's diverse cultural traditions and ecosystems.
– Four of your six hotels are luxurious and the other two offer generous comfort.
– Enjoy in-depth explorations of many of the greatest archaeological sites in Peru: pyramids, temples, royal tombs, and colonial churches; plus splendid museum collections.
– Peruvian cuisine is world renowned, and you will enjoy many special meals.
THIS TOUR IS ACTIVE and requires an elevated level of fitness: Must be able to walk three or more miles per day on mostly uneven terrain, and up and down inclines and steps. Please see the "What to Expect" section of the brochure for more details.
When placing events on your calendar using these buttons, please check that time zone displays correctly.