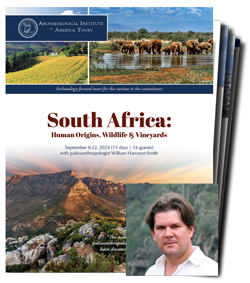 Join paleoanthropologist Will Harcourt-Smith for this unique, enriching journey where history, nature, science, and culture converge. Uncover the threads that connect us to our ancient past, while indulging in fine wines and cuisine, and recharging at 4- and 5-star accommodations. This tour is meticulously designed for travelers who crave a blend of intellectual stimulation, sensory delights, and a deep connection with human history and natural wonders.
Highlights:
– Exploring Human Evolution: Visit early human sites in the "Cradle of Humankind," such as the fossil sites of Gladysvale and Malapa, and the Makapansgat Valley; and, at the tip of
Africa, visit the Blombos Museum of Archaeology and Pinnacle Point Caves. Unravel the mysteries of our ancient past as you engage in discussions with expert guides who will share
insights into the evolution of Homo sapiens and our distant ancestors.
– Wildlife Encounters: Spend two nights at a luxurious camp to explore the Kapama Game Reserve, getting up close and personal with incredible wildlife in their natural habitat on
safari-style adventures led by experienced naturalists.
– Wine Tasting & Vineyards: Spend a day in the Cape Winelands, where you will sample some of South Africa's most renowned wines and traverse picturesque vineyards amid stunning
landscapes.
– Modern Cities & Captivating Landscapes: Take guided tours of bustling and historic Johannesburg and Cape Town, and admire views of lush valleys, rolling hills, and coastal cliffs.
– Engaging Lectures & Discussions: Enjoy a series of lectures by Dr. Harcourt-Smith, the opportunity to participate in thought-provoking discussions with him and other experts, and
exclusive insider access with guest lecturers and curators at a variety of sites.
– Small Group Immersion: This intimate journey is designed for a small group of like-minded individuals, fostering meaningful connections as you share your passion for knowledge and
travel.
When placing events on your calendar using these buttons, please check that time zone displays correctly.