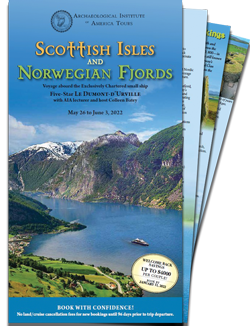 I invite you to join AIA lecturer and host Colleen Batey on this magnificent cruise from Norway to Scotland, visiting remote destinations forever linked by their Viking heritage. Embark (and unpack just once) the five-star Le Dumont-d'Urville with only 92 suites and staterooms, each with a private balcony, providing all the luxury and sophistication of a fine hotel.
Dr. Batey will be part of a team of onboard experts who together will offer a series of lectures and informal discussions. This specially-designed itinerary follows the stepping stones of Scottish and Nordic civilizations during the best time of year when the weather is mild and the days are long—a rare voyage accomplished only aboard a small ship cruising into smaller ports where larger vessels cannot venture.
Set out from charming Bergen, where rows of colorful, gabled houses on the historic Bryggen waterfront evoke the city's past as a center of Hanseatic League trade. Cruise into the majestic Sognefjord, Norway's longest and deepest fjord; and take one of the world's most scenic train rides along Norway's spectacular mountain landscape aboard the Flåm Railway. Continue onward for Scotland's Orkney and the Shetland Islands, with their remarkable links to the distant past. Learn more about the islands' fascinating Neolithic history from the guest lecturer and renowned archaeologist Nick Card, noted for his incredible commitment to research in the region. Marvel at the Neolithic standing stones of the Ring of Brodgar; the 5,000-year-old village of Skara Brae; and the settlement of Jarlshof, revealing layers of thousands of years of human history.
A pre-cruise extension in Norway and Copenhagen, and a post-cruise extension in Glasgow and Edinburgh, Scotland, are also available.
When placing events on your calendar using these buttons, please check that time zone displays correctly.