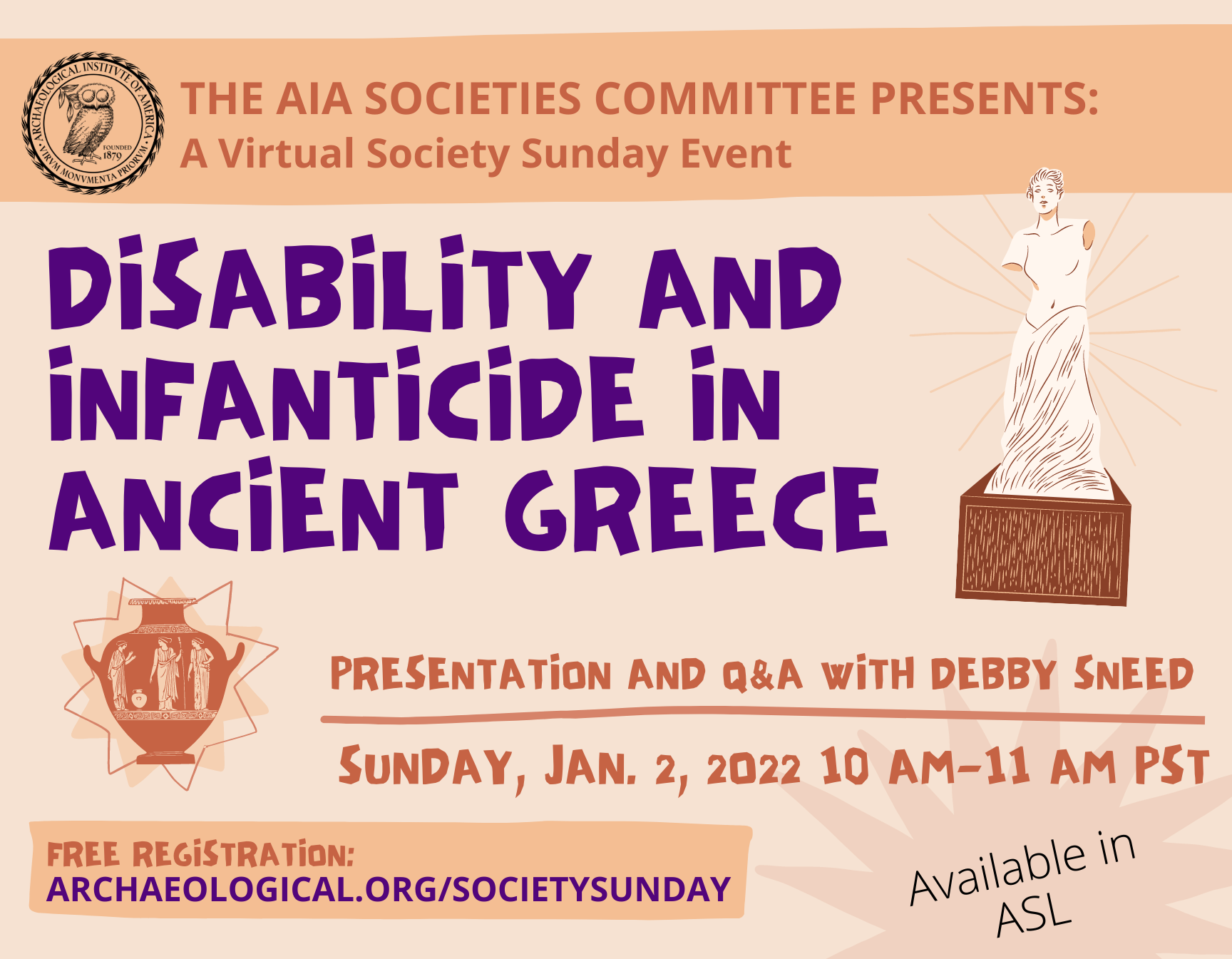 Ring in the new year as the AIA Societies Committee presents a virtual presentation and Q&A with Debby Sneed.
This presentation will also be available in American Sign Language. ASL interpretation will be provided by Trail Blazing Interpreters and we will also enable auto captioning on Zoom. Due to Zoom limitations on mobile devices and tablets, participants interested in accessing ASL interpretation should log in using the desktop version of Zoom.
Join Debby Sneed and take a deeper look at life in ancient Greece with a focus on disability and infanticide. Despite the widely embraced notion that ancient Spartans killed infants born with any kind of physical impairment, there is little literary, archaeological, or bioarchaeological evidence for this being regularly practiced. Debby will discuss how the archaeological record gives us a glimpse of the experiences of disabled members of ancient Greek society.
After the presentation there will be a 20 minute Q&A period, so bring your questions!
---
Debby Sneed is a Lecturer in the Department of Classics at California State University, Long Beach. She received her B.A. from the University of Wyoming, her M.A. from the University of Colorado, and her Ph.D. from the University of California at Los Angeles. Her research interests are disability, identity, and marginalization in ancient Greece, and the archaeology of ancient Greece. Her article "The Architecture of Access: Ramps at Ancient Greek Healing Sanctuaries" (Antiquity 94, 2020) was awarded the 2021 Ben Cullen Prize by the journal Antiquity for outstanding work in archaeology. She has an article on disability and infanticide published with Hesperia (90, 2021) and is currently working on her monograph, entitled Not Another Other: Physical Disability, Ableism, and Disablism in Ancient Greece.
Register for Public Presentation
When placing events on your calendar using these buttons, please check that time zone displays correctly.