October 24, 2011
First National Archaeology Day a Rousing Success!
---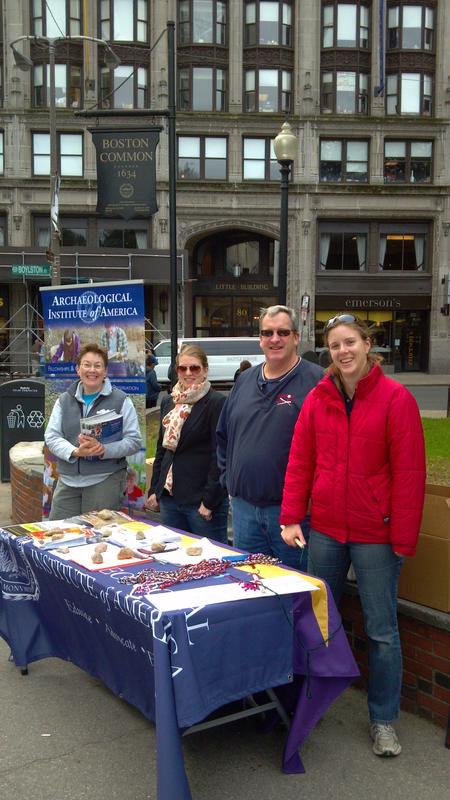 Follow local National Archaeology Day events on the National Archaeology Day Blog.
The nation's first National Archaeology Day, recognized as October 22 by the U.S. Congress, was celebrated across the country by the Archaeological Institute of America, its local societies, and other related organizations.
Launching the celebration was "The Archaeological Institute of America in the Field: A Symposium in Celebration of Archaeology Day at Boston University," jointly sponsored by the Archaeological Institute of America and the Department of Archaeology at Boston University, which was held at Boston University on October 1. The event was moderated by Andrea Berlin, James R. Wiseman Chair in Classical Archaeology; Professor of Archaeology; Director of Graduate Studies, at Boston University, and featured presentations by professors Susan Alcock of Brown University, Carla M. Antonaccio of Duke University, and Shelley Wachsmann of Texas A&M.
On October 7th and 8th, the fifth annual AIA/Museum of Science Archaeology Fair gave school groups, children, and families the opportunity to explore the exciting world of archaeology through a variety of interactive activities and games. About 20 archaeologists, museum specialists, and other experts were on hand to discuss various aspects of their archaeological work with visitors.
On National Archaeology Day, the AIA hosted an information table on the Boston Common, providing information about archaeological resources and opportunities to Bostonians and visitors to the city alike. An online "Global Scavenger Hunt" that was held from October 19th to the 22nd gave visitors the chance to solve a daily game or puzzle and win an annual membership in the AIA. Participants who solved all four puzzles correctly were eligible to win the grand prize—a Kindle Fire e-reader. Visit www.nationalarchaeologyday.org for the list of daily winners and the grand prize winner.
In addition, the AIA, through its partnership with Google Earth, launched a new layer identifying popular archaeological sites in the United States and Canada. Visit www.archaeological.org/news/aianews/6871 for more information.
AIA Societies from Massachusetts to California held special events on Archaeology Day, ranging from open houses to mudslinging! Upcoming events scheduled in recognition of National Archaeology Day include:
'Pay the Ferryman' Exhibit, Curriculum Launch, & Lecture Program
AIA Ottawa, ON Society
Friday, November 4, 2011 – 4:00pm
Discovering Perge: Celebrating 65 Years of Excavations on Turkey's Mediterranean Coast
AIA Boston Society
Wednesday, October 26, 2011 – 5:30pm
Cyprus Discovers the World: The Beginning of the Late Bronze Age at Maroni
AIA Niagara Peninsula, ON Society
Sunday, October 30, 2011 – 3:00pm
The Monarchy of David and Solomon and New Excavation in Southern Israel
University, Mississippi
Wednesday, October 26, 2011 – 4:30pm
Sixteen states also celebrated archaeology in the month of October: California, Connecticut, Iowa, Louisiana, Maine, Massachusetts, Michigan, Mississippi, New York, Ohio, Oregon, Pennsylvania, Texas, Virginia, Washington, and West Virginia.
Friends of the AIA, including African Burial Ground National Monument, American Anthropological Association, American Schools of Oriental Research, American Research Center in Egypt, Bowers Museum, Council for Northeast Historical Archaeology, Florida Public Archaeology Network, Getty Villa, Google Earth, Society for American Archaeology, Society for California Archaeology, Society for Historical Archaeology, Study Egypt Events, and Uinta-Wasatch-Cache National Forest also supported and participated in National Archaeology Day.
We thank everyone for their contributions to making the first National Archaeology Day such a great success, and we look forward to celebrating with you next year!
International Archaeology Day Blog