October 17, 2012
Ireland in a Roman World Conference, Dublin, Ireland
---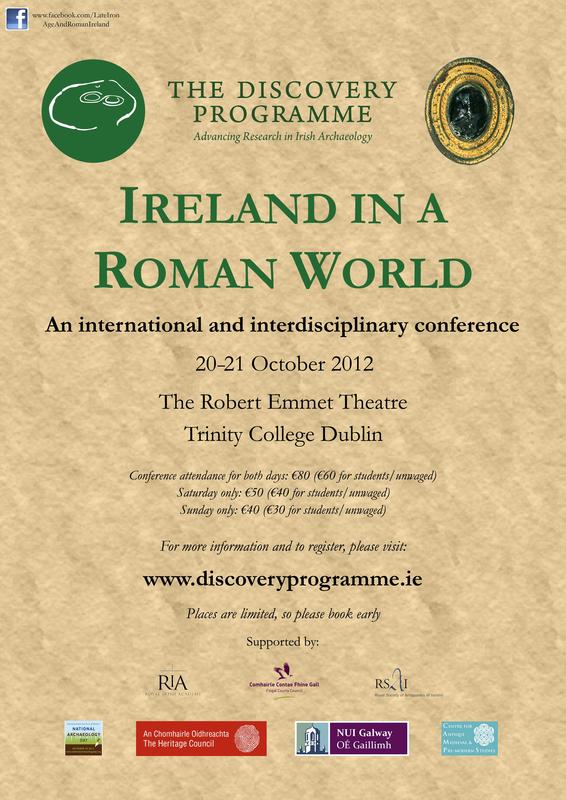 The Discovery Programme will host its first international interdisciplinary conference to consider how Ireland engaged with the Roman world as part of National Archaeology Day. The Discovery Programme's Late Iron Age and 'Roman' Ireland (LIARI) Project will hold the conference in Trinity College Dublin this weekend.  Ireland in a Roman World focuses on the first five centuries AD, and Ireland's relationship with the Roman Empire.
Over the past 10 years researchers inside and outside Ireland have been reconsidering this period. The growing body of imported material, dating to the entire Roman period through to Late Antiquity, can no longer be ignored. A variety of internationally-recognised academics will speak at the conference, including Professor Peter Wells from the University of Minnesota and Dr Richard Hingley from the University of Durham. The conference will be opened by Professor Terry Barry of Trinity College Dublin.
The international and interdisciplinary scope of the conference means that for the first time Roman material from Ireland will be considered meaningful and relevant in our understanding of the Iron Age and will be studied in the context of the impact of Roman culture beyond its formal boundaries.
Get involved by following us on Twitter and Facebook.
Attendance rates:
Both days: €80 (€60 for students/unwaged) Saturday only: €50 (€40 for students/unwaged) Sunday only: €40 (€30 for students/unwaged) Further information is available at www.discoveryprogramme.ie/news-a-events/liari-conference.html.
The programme of events for the 'Ireland in a Roman World' conference is as follows:
Sat 20th Oct: Conference papers: 9am–630pm, Robert Emmet Theatre, Trinity College Dublin Sunday 21st Oct: Conference papers: 930am–2pm, Robert Emmet Theatre, Trinity College Dublin
Contact: Michael Ann Bevivino / Philippa Barry, The Discovery Programme, Tel: 01 639 3039 / 0894139108 / 0876167306
Note:
About the Discovery Programme: The Discovery Programme is a public institution for advanced research in Irish archaeology. The Discovery Programme's sole activity is to engage in full-time archaeological and related research, in order to enhance our knowledge of Ireland's past. Our only other concerns are to communicate the results of that research, as appropriate, to scholars and the general public, and to promote the introduction of new technologies and new techniques into Irish archaeology. 
Further information is available at www.discoveryprogramme.ie.
International Archaeology Day Blog