February 20, 2023
March Virtual Lectures with David Carballo
---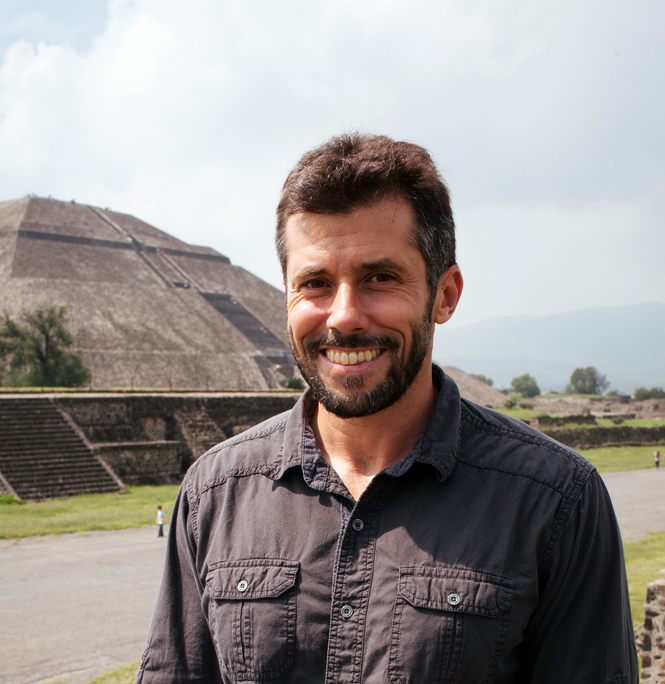 Tune in for virtual lectures with David Carballo on March 14, 15, and 23. Talks will be recorded and added to our AIA YouTube Channel.
AIA ARCHAEOLOGY HOUR
Collision of Worlds: An Archaeological Perspective on the Spanish Invasion of Aztec Mexico
*Each AIA Archaeology Hour presentation is repeated on two consecutive nights.
Tuesday, March 14 at 7 pm PT (Register here)
Wednesday, March 15 at 7 pm ET (Register here)
Mexico of five centuries ago was witness to one of the most momentous encounters between human societies, when a group of Spaniards led by Hernando Cortés joined forces with tens of thousands of Mesoamerican allies to topple the mighty Aztec Empire. The violent clash that culminated in the Aztec-Spanish war of 1519-1521 and the new colonial order it created were millennia in the making, entwining the previously independent cultural developments of both sides of the Atlantic. In this talk, David Carballo will provide a deep history of this encounter based in archaeology and material culture to consider the richly layered cultures of Mexico and Spain and their interweaving in and encounter characterized by conquest and colonialism but also strategic action and resilience on the part of Native peoples.
---
ARCHAEOLOGY ABRIDGED
Traitors or Native Conquistadors? The Role of Tlaxcala in the Fall of Aztec Mexico
Thursday, March 23 at 2 pm ET (Register here)
Following three centuries of colonial rule, when Mexicans achieved their independence from Spain they embraced prehispanic cultural symbols and labelled Indigenous groups who had allied with Spaniards in the sixteenth century as "traitors", particularly the traditional Mexica-Aztec foes, the Tlaxcaltecs. Recent scholarship has questioned such categorizations as a simplification of Native agency in a time of European colonial expansion. In this talk, David Carballo will provide an overview of Tlaxcaltec resistance and resilience both during the Aztec period and early New Spain.
---
These lectures will also be available in American Sign Language (ASL). ASL interpretation will be provided by Trail Blazing Interpreters. Due to Zoom limitations on mobile devices and tablets, participants interested in accessing ASL interpretation should log in using the desktop version of Zoom.