October 28, 2016
Orange County Hears about Egypt from Experts and Newcomer
by Sophie Will
---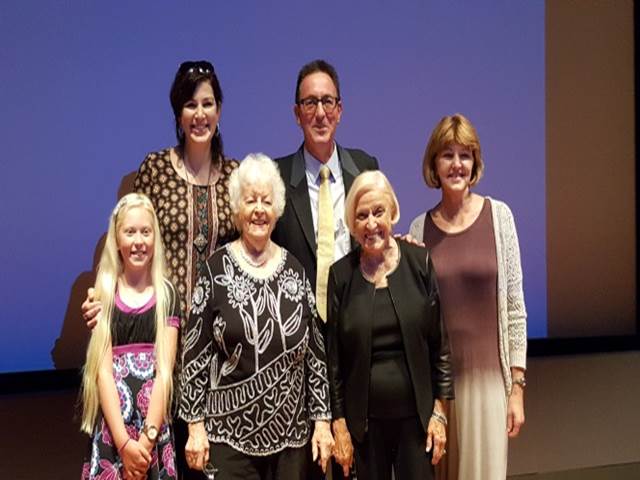 On International Archaeology Day 2016, Santa Ana, California heard from Egyptology experts and a surprising newcomer to the field on "Egypt before the Pharaohs", "Beyond ancient Egypt", and the "Future of Archaeology".  The AIA-Orange County Society and the American Research Center in Egypt-Orange County Chapter collaborated to bring this invigorating presentation to the members of both organizations and the public at the Norma Kershaw Auditorium in the Bowers Museum.
The afternoon started with Kara Cooney, an Associate Professor at University of California, Los Angeles, giving a riveting lecture about the context of Predynastic stone palettes in both an archaeological and historical light. Particularly, she inquired into how they were discovered and how the emergence of kingship brought about their disappearance in Egypt.
Hans Barnard, an Assistant Researcher at the Cotsen Institute of Archaeology at UCLA, continued the discussion with "Beyond ancient Egypt, Archaeology of the Eastern Desert," in which he examined the state of the area. The Eastern Desert exists between the Nile Valley and the Red Sea.  According to Barnard, the area has an "interesting history on its own, but its study is troubled by many, often difficult issues."
Finally, the panel finished with the choice guest speaker, Kate Pointer, age 10, who often attends lectures with her parents, and is a friend of AIA Trustee Emeritus, Norma Kershaw, who asked her to make the presentation. Katie gave an incredibly poignant speech on the future of Cyber-Archaeology at this event.
As a result of her successful presentation, Katie has been invited by Patricia Milner, an attendee and founder of the Cosmos Study Group (a non-profit organization working with underserved schools to promote scientific education), to assist the group with speeches and continue outreach to young archaeologists her age.
The event was incredibly successful, insightful, and extremely educational. Hats off to the Bowers Museum, the AIA-Orange County Society, and the American Research Center in Egypt-Orange County Chapter for planning such a fantastic event!
International Archaeology Day Blog