Blackfriary, Ireland: Brittany
June 26, 2015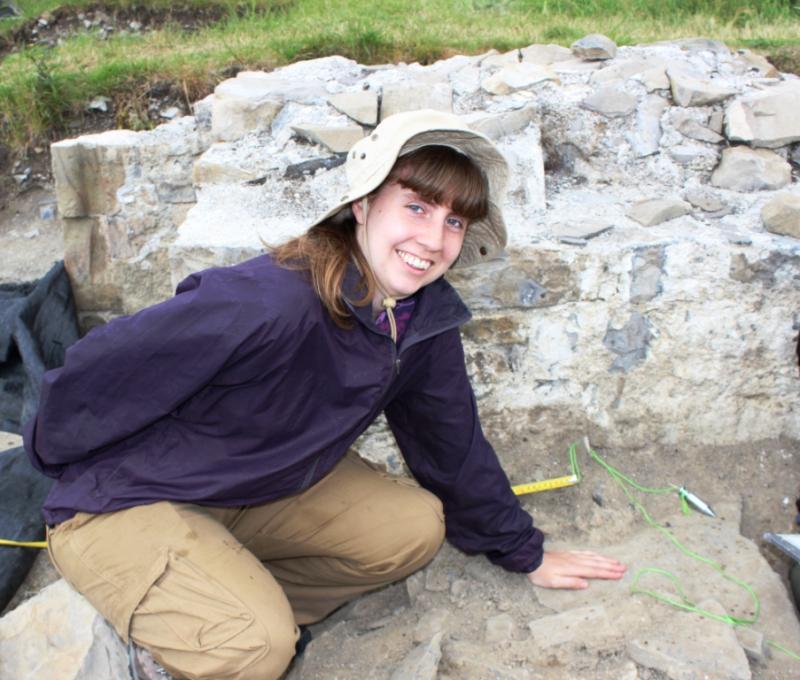 Hi! I am Brittany and I am a student here on the Blackfriary Community Heritage and Archaeology Project. I grew up in Ottawa, Canada but for the past seven or so years I have been living in Moorpark, California.  I just graduated UC Berkeley and will be attending San Diego State for my Masters. I am really into historical archaeology so even though my degrees are in the anthropology field I really wanted to get out there and try my hand at digging. It has been my experience that most of my professors didn't even mention dig site opportunities till my classes had started. I found that a lot of the field school that are more publicly known to me or that were mentioned were either camps for teenagers, or were not at an introductory level. I began to research different opportunities and stumbled onto the Irish Archaeology Field School website. I chose this dig because I felt like it was okay that I didn't have previous experience and they would help guide me and show me what to do. I loved that and I felt like I didn't have to worry about the location as Ireland is a safer country than some of the other field school locations I was looking at. So, I signed up. I really wanted to get a feel of what I should look out for while digging. I went into this experience expecting to learn how a site works, how to do all sorts of documentation, if there were any specific digging methods, or anything else I wasn't aware of that went into an excavation.
As of now, I have been on site for four weeks. I have been working within one particular cutting with the exception of helping de-weed another cutting to re-open it for the season. I found a lot of bone and rusty nails (I had no clue that medieval nails were square as opposed to circular!). I have learned a lot about taking levels and coordinates. I think, for me, the coolest thing has been when I got put on excavating a portion of the church wall in my cutting, being able to dig around it, seeing the dimensions of it, planning it, has all been really cool! It has really captured my imagination as I see this line of rubble and wonder if it was once part of it or if it's not even associated with the wall. I have found that I really like architecture and archaeology. Some people get really excited over animal bone or human remains but for me seeing the structural remains is the best! A BIG thing for me is I am no longer scared by post-ex! I was so nervous initially, not knowing or properly label the bags or make sure everything was registered. I also know how to use the site camera too! As I am preparing to leave I feel confident in what I have learned.
The staff here on site are really amazing. I really felt like part of a team and if I had any question everyone was available to help me. I would like to mention that as a person who is on the autism spectrum, I had no problems on site. My supervisor Laura was the best. Even if she was really busy she would try and get around to check on all her students to make sure they were doing okay. I would definitely recommend this site to others. The experience is amazing and it really is a great introductory dig. If someone is into zoology or bioarchaeology I would REALLY recommend site because the amount of faunal and human remains that keep coming up is astounding.
If someone were to come up to me and tell me that they were interested in going to a field school I would tell them to go to Blackfriary where there are no dangerous animals, the staff are friendly who show you how to do everything, and you might discover (like I did) that you like tea! 
Interactive Digs:
---