Blackfriary, Ireland: Sharon
June 26, 2015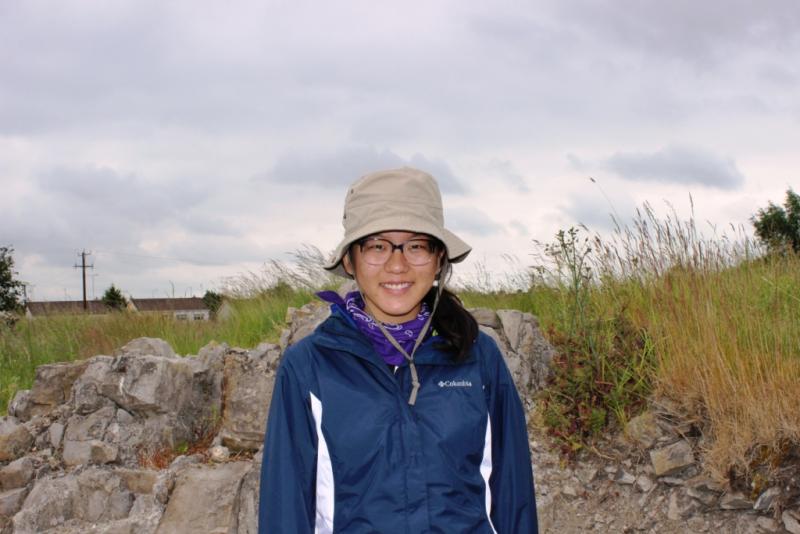 Hello. I'm Sharon Han and I'm from St. Louis, Missouri. I am attending Washington University in St. Louis working on my degree in archaeology with a minor in earth sciences and art history. I currently work at a science museum. I like anything that's old! In general, I think the reason why I chose archaeology is because in high school I had such a hard time trying to pick what I wanted to study. I have a fascination with almost everything and I was on the search for a degree that would let me do something specialized but would still tie into one big picture and for me the answer was archaeology. Something I have noticed through my college career is that there is a disparity between public knowledge and what archaeology actually does. I think in this day and age it's really important that we share this knowledge with the public of what we are doing on excavations, why it's important and they should get involved. As a result of this observation I am really interested in museum education. As I stated earlier, I work at a science museum and I work with a lot of dinosaur bones. Even though that's not my main study I am able to share with people the knowledge I have learned and enlighten them on anything, like the difference between paleontology and archaeology. My school requires you to go to a field school if you are an archaeology major. So I sat down and began to decide where should I go and what time period should I study. I wanted to go someplace and study a specific period that my school can't offer in itself. At Washington University we don't have a lot of studies on the medieval era or medieval religious orders. I've always been interested in visiting this part of the world, as my minor is in earth science, because there is a wealth of geological stuff around here. This is why the Blackfriary stuck out to me.
I came through the IFR. I found out about the program through my major advisor, who advised that I check out IFR's website to look for a field school that would interest me. I found the Blackfriary field school and talked to another student at my school about attending. We decided that it offered the most to us in new material and were particularly interested in the community aspect. Since I am interested in museum education that factor really made it click for me that I wanted to come to this site. I'm expecting to get excavation experience. I have done a lot of inventory, lab work, post-excavation work but I have never done field work and would love to see how it suits me. I am also very excited to learn more about this time period.
I have been here a week now and it has been really fun! I really appreciate how opportunities like this bring together like-minded people. While they may come from different backgrounds and different places, we all have an appreciation for this place, what it can offer us as students. I'm looking forward to finding cool things on site, having new stories to share, and gaining a better understanding of what it is like to work in this environment. For me, the Blackfriary site is perfect as I don't know at this point if I will be an archaeologist in the future but I can become a better advocate for archaeology and the knowledge gained through these processes if I better understand them.
Interactive Digs:
---