April 5, 2023
Update from Society Outreach Grant Winner: AIA Nashville Society
---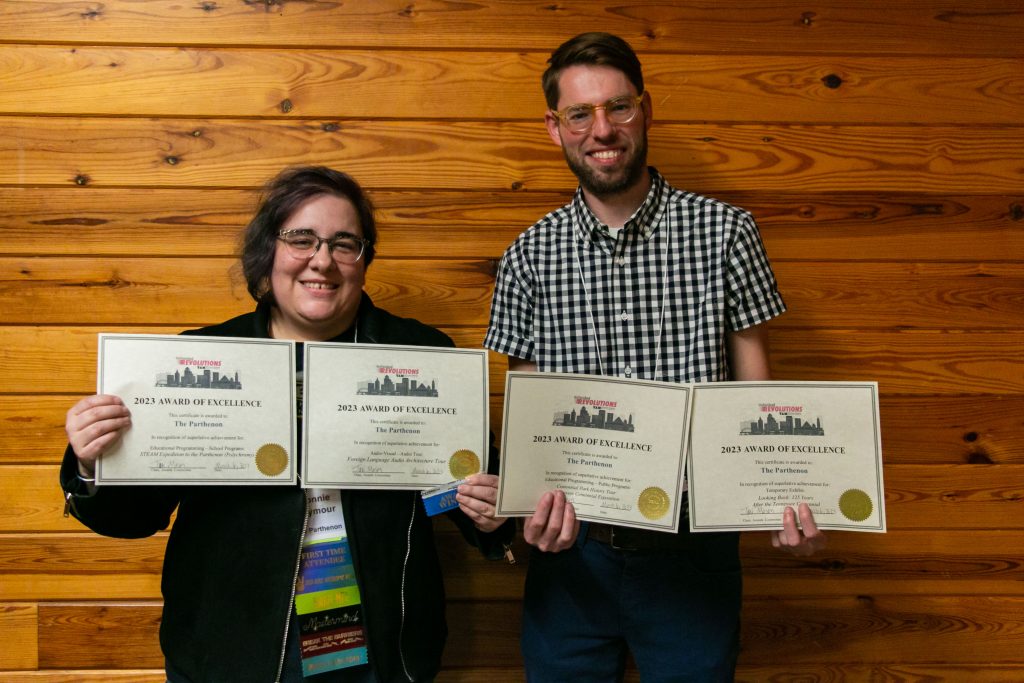 Image: Bonnie M. Seymour, Registrar and Curator at the Nashville Parthenon, and Charles Googe, President of the Tennessee Association of Museums, at the 2023 TAM Conference Awards Ceremony (Courtesy of Katie Petrole)
In the spring of 2020, the Nashville Society received an AIA Society Outreach Grant for an educational program at the Nashville Parthenon. The event took place in celebration of International Archaeology Day 2020 and promoted public understanding and appreciation of all aspects of archaeology.
Part of their outreach included a polychromy Art Cart station with programs that allowed the public to learn in a hands-on way about mosaic art, architecture, Greek gods and more! Katie Petrole, Director of Education at the Nashville Parthenon, reach out to let us know that The Parthenon later adapted some of the gallery program contents to a virtual school program. Recently, it won an award from the Tennessee Association of Museums (TAM)!
The Nashville Parthenon was a recipient of the 2023 Award of Excellence at the Tennessee Association of Museums (TAM) awards at the recent TAM conference. The Awards Ceremony was held in Bartlett, TN at Davies Manor Plantation on March 15, 2023. The TAM Awards of Excellence were presented to museums across the state for exceptional projects, programs and events held during 2022.
The purpose of the TAM Awards of Excellence program is to recognize, encourage, and promote excellence within the activities of the Tennessee museum community. Awards are based on creativity, originality, resourcefulness, success, support of museum mission statement, and utilization of staff and volunteers.
Congratulations to Katie, Bonnie M. Seymour, the Nashville Parthenon, and the AIA Nashville Society for this amazing success!