AIA Society Outreach Grant Program
Archaeological Institute of America
---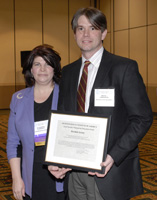 Deadline: October 16, 2023
"I've never seen the local societies so engaged and so creative as they have been since [the Society Outreach Grant Program] was instituted."
—Jane C. Waldbaum, AIA Past President and Former Milwaukee Society President
View Past Winners of the Society Outreach Grant
The AIA Society Outreach Grant Program encourages AIA societies to plan and implement outreach activities in their local community. Any event that promotes archaeology, the AIA's mission, and focuses on public outreach and education will be considered for funding. Attracting new members to the AIA and the society should also be a goal. This grant is meant for innovative outreach programs, replicable by other societies and beyond the regular lecture program supported by the national office (see past projects). Funds may be used for any expense related to organizing and conducting the programs, these include but are not limited to materials, travel expenses, honoraria, advertisements, and publicity. If funds are requested for a lecture, the Society should provide adequate explanation as to how this lecture is meaningfully different from the routine lecture series (e.g., involvement of new audience, development of new partnerships, educational programs, visibility in an attractive segment of the community or the like). Grant money cannot be used for things like outside management (i.e. hiring an event planner) or for basic operating costs. The grant is available to any chartered AIA society. Preference is given to new projects.
Grants do not have a set monetary value. The amount awarded to a Society will be contingent on the estimated cost of the event or project being planned. Grant requests of up to $500 are currently being considered. A final report must be submitted within two months after the completion of the event.
A rubric detailing effective use of an AIA Society Outreach Grant is available here.
The fall 2023 deadline to apply for a Society Outreach Grant is Monday, October 16th.
Multiple grants will be awarded in each cycle. All applications must be submitted electronically online. No mailed applications will be accepted. Award winners will be notified within six weeks of submission of the completed application (including all attachments and budgets) below.
For more information about the AIA Society Outreach Grant, please contact Sarah Smith, AIA Membership and Societies Coordinator.
To support the AIA Society Outreach Grant, click here.
Recipients
---
---
---
---
---
---
---
---
---
---
---
---
---
---
---
---
---
---
---
---
---
---
---
---
---
---