April 7, 2017
65 Archaeology Day 2017 Collaborators at end of March
---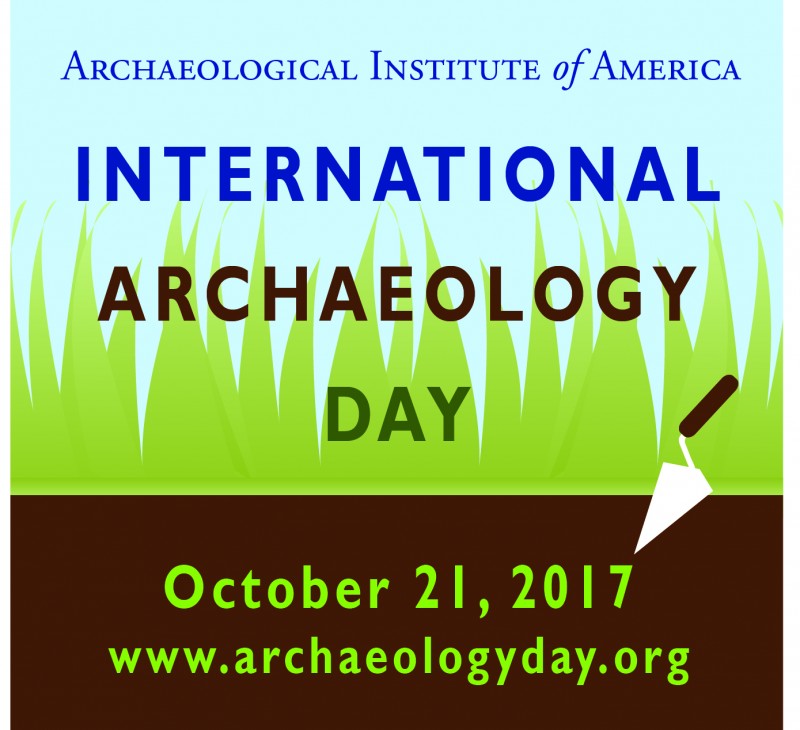 Organizations from around the world are signing on as Collaborating Organizations for International Archaeology Day 2017 at record breaking speeds.  By the end of March, 65 organizations had already signed up and new sign ups continue to come in almost daily.  Last year, when IAD grew by nearly 200 events to a total of about 700 celebrations around the world, the AIA received the same number of sign ups as we currently hold by mid-June.  With that in mind, IAD 2017 is on pace to be the largest global celebration of archaeology yet.
The following list includes all organizations signed up for IAD 2017 through the end of March:
Alexandria Archaeology
American Research Center in Egypt, Pennsylvania Chapter
Archaeological Society of Ohio, Chippewa Valley Chapter
Archaeological Society of Ohio, Cuyahoga Valley Chapter
Archaeologists for Autism
Archaeology Southwest
Bureau of Land Management, Vernal Field Office
Byzantine Studies Association of North America
Centro de Geociências, Universidade de Coimbra
The Children's Museum of Indianapolis
City of Prague Museum
Classical Association of the Atlantic States
College of Wooster Program in Archaeology
Delaware State Parks
Draper Natural History Museum at Buffalo Bill Center of the West
Gloucester Museum of History
History Center for Aransas County
Honor Frost Foundation
Institute of Archaeological Heritage Management Brno
Instituto Politécnico de Tomar
Instituto Terra e Memória
J. A. Comenius Museum, Uherský Brod
Kentucky Archaeological Survey
Long Ago Yukon
MacCallum More Museum and Gardens
Marquette Regional History Center
Masaryk University in Brno, Department of Archaeology and Museology
Museum of Central Bohemia in Roztoky
Museum of Indian Arts and Culture
Museum of New Mexico, Office of Archaeological Studies
Museum of Ontario Archaeology
Museum of South Bohemia in České Budějovice
Muzeum T. G. M. Rakovnik
National Park Service, Harpers Ferry National Historical Park
Newlin Grist Mill
New Mexico Office of Archaeological Studies
O'Brien County Conservation Board
Ohio History Connection 
Oneida Community Mansion House
Oshawa Museum
OTS Foundation
Portland State University
Pueblo Grande Museum
Regional Museum in Most
Research Laboratories of Archaeology at UNC-Chapel Hill
Salve Regina University, Noreen Stonor Drexel Program in Cultural and Historic Preservation
Saskatchewan Archaeological Society
Society for American Archaeology
Society for Historical Archaeology
Stallknecht Museum
Summit Metro Parks
Thomas Jefferson Foundation/Monticello
Trent University Durham
Trnava University, Department of Classical Archaeology 
Universidad Externado de Colombia, Programa de Arqueología
University of Akron
University of Guyana
University of Iowa Office of the State Archaeologist (OSA)
University of Michigan, Kelsey Museum of Archaeology
University of Pennsylvania Museum of Archaeology and Anthropology
University of Richmond, Department of Classical Studies
Virtual Curation Laboratory
West Bohemia Museum
Wickliffe Mounds State Historic Site
Wyoming Archaeological Society
Be sure to check back for more sign ups in the coming months or click here to see the full list of Collaborating Organizations.
To learn how your group can become a Collaborating Organization, visit our info page.
Find International Archaeology Day events in your area.
International Archaeology Day Blog