March 30, 2021
AIA Launches #BuildYourOwnMonument 2021 Competition!
---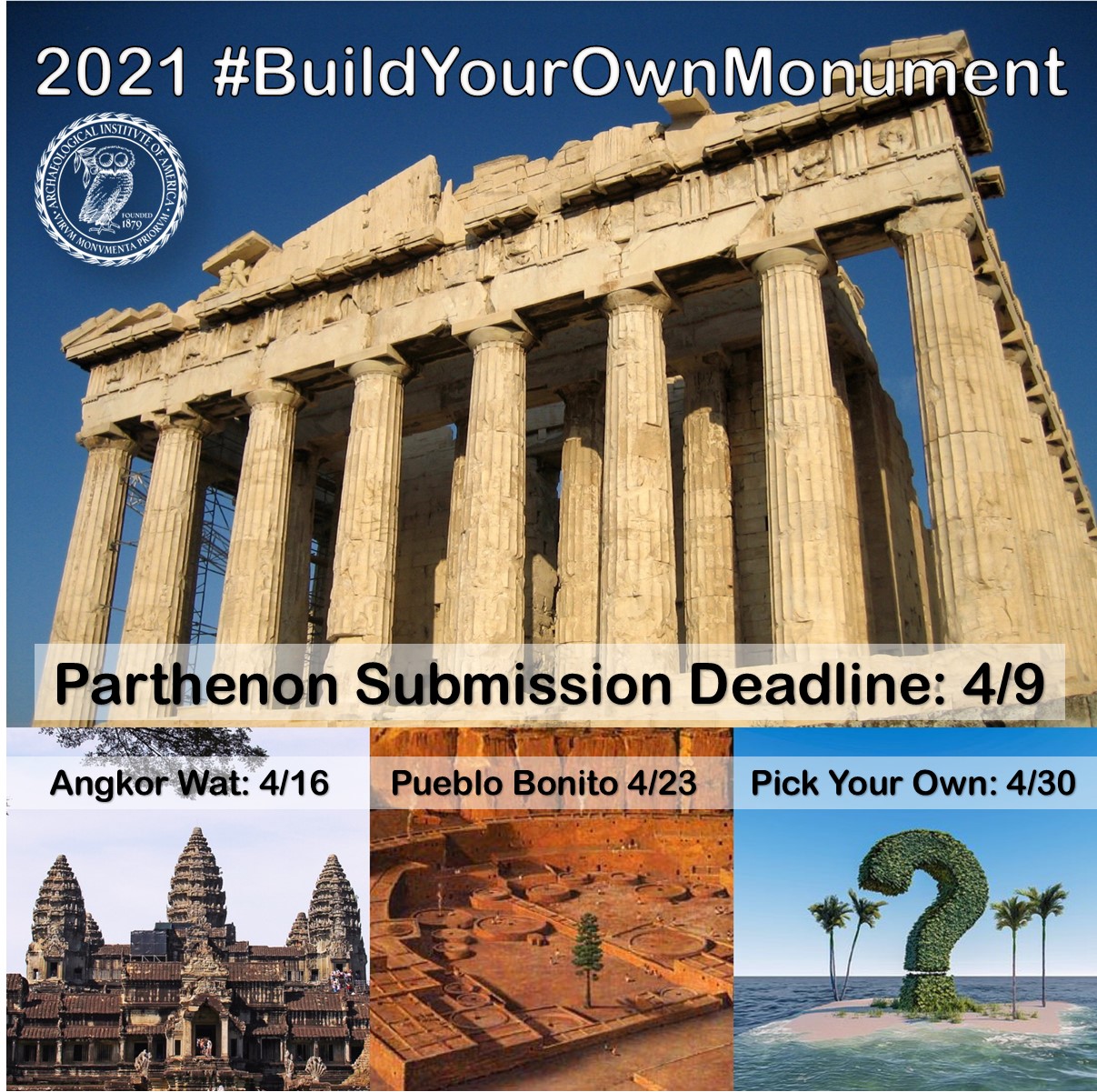 As the pandemic grinds on, the Archaeological Institute of America is launching its second Build Your Own Monument (BYOM) competition. Last year's inaugural BYOM contest, originally slated to kick off in the fall in conjunction with the 10th Anniversary of International Archaeology Day, was moved up to the spring to provide an outlet for creative energies as all of us adjusted to spending a lot more time at home.
The first BYOM was a bright spot in the early part of the pandemic and we were pleasantly surprised with the incredible enthusiasm for the program: 320 entries from 14 countries; 26,400 votes cast to select popular vote winners; over 100,000 BYOM pageviews on our website, tens of thousands of interactions on social media; and media coverage from Atlas Obscura, Smithsonian Magazine online, and Newsela.
This year the AIA is highlighting the Parthenon, Angkor Wat, Pueblo Bonito, and will conclude with a "pick your own monument" category. So, dig into your pantries or arts and crafts supplies and let your creativity shine! 
| | | |
| --- | --- | --- |
| Deadline | Online Voting | Site |
| April 9 | April 12-15 | Parthenon at the Acropolis, Greece |
| April 16 | April 19-22 | Central structure at Angkor Wat, Cambodia |
| April 23 | April 26-29 | Pueblo Bonito at Chaco Canyon, New Mexico |
| April 30 | May 3-6 | Pick Your Own Monument |
There are three submission categories for each monument: Youth (K-12), Family, and Adult. Each week, we'll have a new round of voting to determine one winner by popular vote. An additional set of winners will be selected by one of our celebrity judges. Winners will receive an AIA prize pack.
This year's celebrity judges are:
Parthenon
Joan Breton Connelly, Professor of Classics at New York University and Director of the NYU Yeronisos Island Excavations and Field School in Cyprus, has received the AIA's Excellence in Undergraduate Teaching Award and the AIA's James R. Wiseman Book Award for Portrait of a Priestess, while her Parthenon Enigma received the Phi Beta Kappa Society's Ralph Waldo Emerson Award for best book in the Humanities. Connelly's first paying job was as a tennis instructor.
Angkor Wat
Dougald O'Reilly, Associate Professor of Archaeology at the Australian National University in Canberra, is currently investigating the mysterious Plain of Jars culture in Laos. He is the director of Heritage Watch, an organization dedicated to stopping the destruction of cultural heritage in Cambodia, and in his spare time makes art of questionable quality and works on a board game that has nothing to do with archaeology!
Pueblo Bonito
Joe Watkins is a Senior Consultant at Archaeological and Cultural Education Consultants, LLC, and a Designated Campus Colleague (Adjunct Associate Professor) in the School of Anthropology at the University of Arizona, Tucson, Arizona. While he has always looked forward to retirement, he has found over the course of the last three years that it is not for the weak-hearted!
Pick Your Own Monument
Laetitia La Follette is Professor of the History of Art and Architecture at the University of Massachusetts Amherst and President of the AIA. Although her current research focuses on Roman portraits, her first love was ancient architecture so she is looking forward to this year's Build your Own Monument competition.
More information: www.archaeological.org/build-your-own/
International Archaeology Day Blog