February 9, 2011
AIA Online Excavation Outreach Contest Winner Announced
---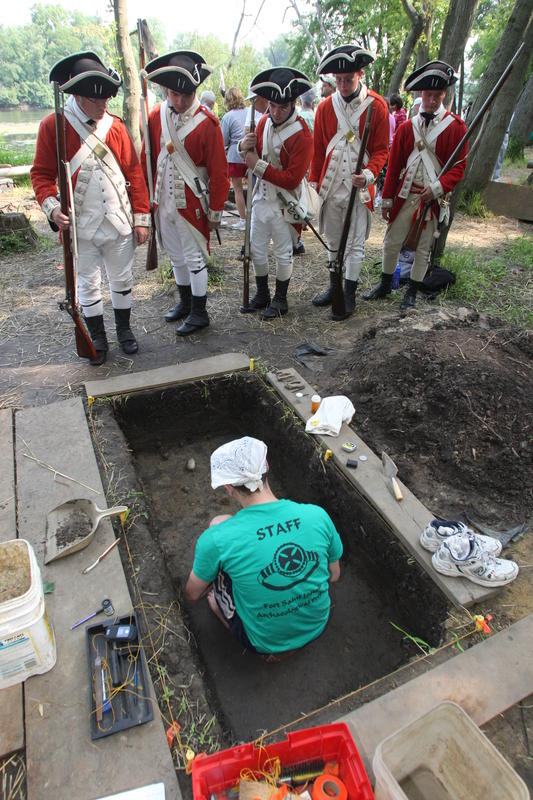 Enter the 2012 contest
Congratulations to the Fort St. Joseph Archaeological Project (Michigan), the winner of the first ever AIA Excavation Outreach Contest! 
The AIA has long been aware that many of its members combined public outreach programs with their archaeological research. The Excavation Outreach Contest provided the Institute with an opportunity to find out more about these exemplary outreach programs and to recognize the outstanding efforts of our members.  Candidates were asked to submit a 100 word description of their project along with a photo for the AIA website.  Over the course of a week AIA members, students, and the general public were given the chance to vote daily for their favorite outreach project.  Turn out, in the virtual sense, was phenomenal with over 10,000 votes cast in a one week period—a true testament to our members' enthusiasm for outreach alongside excavation.
The Fort St. Joseph Archaeological Project clinched first place vote with 3,456 votes, but the competition was stiff!  The five other contest entries, representing projects in Belize, Florida, Italy, South Carolina, and Spain each received between a few hundred and a few thousand votes.
Based out of Western Michigan University (WMU), the Fort St. Joseph Archaeological Project, in the city of Niles, Michigan, is located at a mission, garrison, and trading post complex occupied from 1691 to 1781 by the French and British.  A major project goal of the Fort St. Joseph Archaeological Project since excavation began in 2002 was to make archaeology accessible to the public.  They believe that the community whose history they are unearthing and interpreting should have the opportunity to learn about the project's findings and even take part in the archaeological process.   Every year the project holds summer camps for middle school and high school students, teachers, and life long learners as well as a university level field school.  An annual open house features living history re-enactors, lectures, informational panels and displays, site tours, music, food, and ongoing excavations and has been attended by over 10,000 visitors since 2006.
Michael S. Nassaney, the project director and a professor at WMU, will receive a free year of basic AIA membership (includes a subscription to ARCHAEOLOGY magazine), two free registrations to the 2012 AIA Annual Meeting in Philadelphia, and copies of our special ARCHAEOLOGY issues on Ancient Egypt and the Maya.  The AIA would like to congratulate the Fort St. Joseph Archaeological Project, along with all of our contest entrants, for the fantastic work they do as ambassadors for the field of archaeology.
Stay tuned for the AIA's next online contest: Best AIA Local Society Program 2010-2011.  Watch archaeological.org for more information and submissions in April as well as voting in early May!