May 3, 2017
April Brings 71 More Collaborators for Archaeology Day 2017
by Sophie Will
---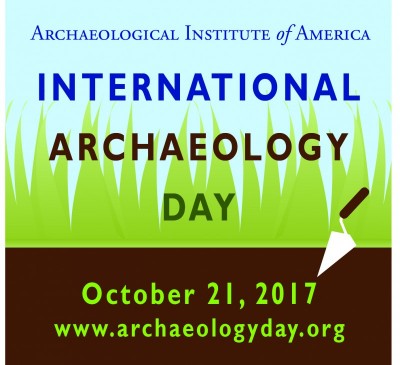 A rapidly increasing number of worldwide organizations are signing up to be Collaborating Organizations for International Archaeology Day 2017. In April alone, 71 organizations volunteered to organize events for this October. This brings our grand total to 136 Collaborating Organizations ready to celebrate archaeology in just a few months. At this current pace, IAD 2017 is predicted to be the largest global celebration of archaeology yet.
The following list includes the organizations that signed up for IAD 2017 in April:
American Institute for Conservation of Historic and Artistic Works
Aransas County Historical Society
Archaeology Vacations
Bell County Museum
Bratislava City Museum – Ancient Gerulata Museum
Center for Ancient Mediterranean and Near Eastern Studies
Chappell Hill Historical Society Museum
Charlotte County Historical Center
Chickasaw Cultural Center
Colorado Parks and Wildlife – Roxborough State Park
Concord Museum
Cooper Center
Cotuit Library
Crown Point Road Association
Discovery Programme: Centre for Archaeology and Innovation Ireland
Deutsches Archäologisches Institut
El Paso Museum of Archaeology
Emory University, Ancient Mediterranean Studies Program
Florida Public Archaeology Network
Friends of Jones County Conservation and Nature Center
Harvard Museums of Science and Culture
Harvard Semitic Museum
Hill Country Archaeological Association
Historic New England
Hunebedcentrum
International Archaeology Center
Jones County Conservation Board
Lafayette Science Museum
Louisiana Archaeological Society
Louisiana Division of Archaeology
Louisiana State Parks, Audubon State Historic Site
Louisiana State Parks, Mansfield State Historic Site
Loyola University New Orleans, Classical Studies Department
National Park Service, Cape Cod National Seashore
National Park Service, Fort Stanwix National Monument
National Park Service, Palo Alto Battlefield National Historical Park
New England Historic Genealogical Society
New Jersey State Museum
Old Colony History Museum
Oklahoma Historical Society
Oklahoma Public Archaeology Network
Oneida Community Mansion House
Oregon Archaeological Society
Pacific Coast Archaeological Society
Panhandle-Plains Historical Museum
Peabody Museum of Archaeology and Ethnology
Plymouth Public Library
Presidio Trust
Riverside County Parks and Open Space District
Royal Ontario Museum
Society for California Archaeology
Society for Pennsylvania Archaeology, Inc. – Frances Dorrance Chapter #11
Spiro Mounds Archaeological Center
Stichting In den Scherminckel
Texas Historical Commission, Archeology Division
Texas Historical Commission, Fort Griffin State Historic Site
Texas Historical Commission, San Felipe de Austin State Historic Site
Texas Outdoor Education Association
Texas Parks and Wildlife, Battleship Texas State Historic Site
Texas Parks and Wildlife, Enchanted Rock State Natural Area 
Texas Parks and Wildlife, Hueco Tanks State Park & Historic Site
Tubac Presidio State Historic Park
Tumacácori National Park  
Universidad Europea de Canarias
University of Georgia 
University of South Alabama, Archaeology Museum
University of Texas at Austin, the Mesoamerica Center
University of Virginia
Ventress Memorial Library
Wapsi Valley Archaeology, Inc.
Western Bioarchaeology Group
Be sure to check back for more sign ups in the coming months or click here to see the full list of Collaborating Organizations.
To learn how your group can become a Collaborating Organization, visit our info page.
Find International Archaeology Day events in your area.
International Archaeology Day Blog