Eugene N. Borza (1935-2021)
Ancient Historian, Devoted Teacher, Gracious Colleague
Eugene N. Borza was a professor in the History Department at Pennsylvania State University for over thirty years before his retirement in 1995. An authority in the history and archaeology of ancient Macedonia and the Classical Revival in Greece, Dr. Borza was very active in the AIA' serving as an Academic Trustee, National Lecturer, and President of the Central Pennsylvania Society. During his tenure at Penn State, he also found time to be a visiting professor at multiple other universities. He did his undergraduate work at Baldwin-Wallace College and completed both his MA and PhD at the University of Chicago.
We spoke to Kathleen Pavelko to learn more about why he's an archaeologist you should know.
About Kathleen
Kathleen Pavelko is a former General Trustee of the AIA (2000-2006) and has been nominated to rejoin the Governing Board in 2023. She was married to Eugene N. Borza for 46 years, until his death. She holds an B.A. in ancient history from Penn State. She is a journalist and public media executive, retiring as CEO of WITF Public Media (Harrisburg, PA) in 2019.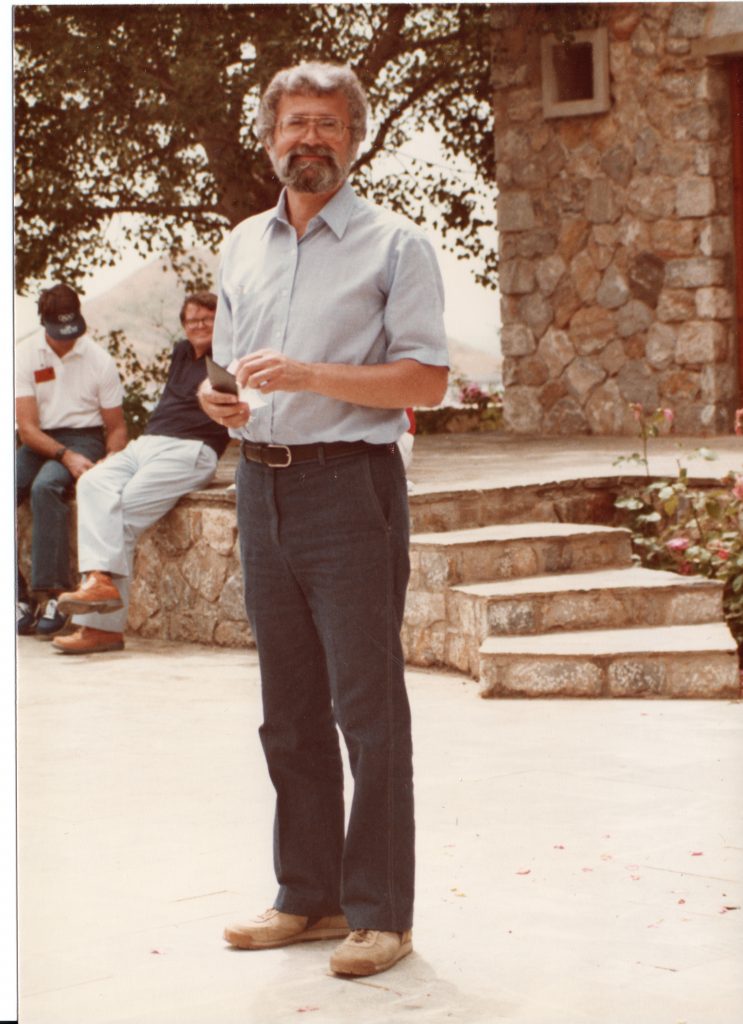 About Gene as an "archaeologist"
Because he was an ancient historian, seeing Gene Borza listed as an Archaeologist You Should Know might come as a surprise. Yet he was widely known in the AIA after 40 years as a National Lecturer, an Academic Trustee on the Governing Board, and for service on the Lecture Program and Gold Medal Committees.
Gene was a contributor to the field of archaeology. He served as a liaison between historians and archaeologists, and as an interpreter of archaeological evidence, bridging the gap between digging and interpretation—all without getting his hands dirty (as he often said).
Gene's investigations were broad: in addition to the ancient sources and archaeology, he utilized topography, epigraphy, numismatics, and art history. He believed that historians must employ many tools, especially where evidence is scanty (such as Macedonia before Philip II) or contested (Alexander the Great). He believed that no single technique or discipline was sufficient to the task of describing a complex and lost world.
Get to know Gene
Gene was born March 3, 1935, in Cleveland, Ohio, the only child of John Borza and Rhea Silvia (Haizea) Borza. His parents were Romanian immigrants; Silvia a homemaker and John a school district administrator who was also team photographer for the Cleveland Browns. As soon as Gene was old enough to hold a camera, he became part of the crew shooting game films, home and away, in the glory years of the team, 1950-1963.
After graduation from Baldwin Wallace College in 1957, Gene taught history at his alma mater, Lakewood High School. In 1960 he entered the graduate program in history and classics at the University of Chicago, where he was mentored by Gertrude Smith and Stewart Irwin Oost. His scholarly interests began with Alexander the Great (his dissertation was on the 17th book of Diodorus), but it soon expanded to earlier: the rise of the Macedonian dynasty and Philip II. Manolis Andronikos' discoveries at Vergina (1976) accelerated his interests in the emergence of Macedon.
Hired as an assistant professor at Penn State in 1964, Gene began a long career of scholarship and exemplary teaching, not retiring until 1995. He was a National Lecturer for the AIA for 40 years, including twice as the Charles Eliot Norton Lecturer (2000-2001, 2002-2003) and was awarded the Olivia James Fellowship (1970-71). His visiting professorships included the University of Colorado, Boulder (1983); The American School of Classical Studies at Athens (1984-86); the University of Washington (1990); Trinity University (1996); and Carlton College (1997). He especially enjoyed serving as historical advisor to the National Gallery of Art's groundbreaking exhibition, The Search for Alexander, in 1981, and as tour leader for the Young Presidents Organization, 1982. He launched Penn State's study abroad program in Greece (1992). He also helped to launch the Association of Ancient Historians (AAH) and served two terms as its president.
He published more than 50 peer-reviewed academic articles; his books include the introduction and commentary to a new edition of Ulrich Wilcken's Alexander the Great (1967), Travel and Communications in Classical Times: A Guide to the Evidence (1967) and Macedonia and Greece in Late Classical and Early Hellenistic Times (1982; the National Gallery of Art).
The work for which he is best known, and which demonstrated his skillful use of archaeology and topography in the service of history, was In the Shadow of Olympus: The Emergence of Macedon (1990) published by Princeton University Press and nominated for the Breasted Prize (AHA) and the Goodwin Award (APA now SCS). His other publications included Before Alexander: Constructing Early Macedonia (1999) and Makedonika: Essays by Eugene N. Borza (1995), edited by Carol G. Thomas.
He was honored with a festschrift edited by Jeanne Reames and Timothy Howe, Macedonian Legacies: Studies in Ancient Macedonian History and Culture (2008).
How would you describe Gene's work and field of study?
Gene's impact is best described by his colleagues. Carol Thomas (Professor Emerita of Greek History, University of Washington): "In the manner of his models [archaeologist] Eugene Vanderpool and [historian] N.G.L. Hammond, Gene regularly walks the land of his subject. To knowledge of the land, he brings appreciation of the remains it contains, bridging a gap between archaeological practice and interpretation of the evidence. Only by joining these kinds of evidence, Gene argues, can we understand 'a people (previously) known only from a hostile or distant literature.'"
Ernst Badian, a fellow Macedoniast and Harvard professor, wrote: "It is chiefly Gene's merit that a recognizably historical interpretation of the history of classical Macedonia has not only become possible, but is now accepted by all ancient historians who have no vested interest in the mythology superseded by Gene's work."
Erich Gruen, professor emeritus of ancient history at Berkeley, summed it up: "In the Shadow of Olympus remains, in my view, the best single volume treatment of Macedonia in all its aspects in any language."
Interesting stories about Gene?
Gene was appreciated for combining scholarship with gracious colleagueship. Historian Peter Green said of him "never was a man less given to the kind of mean-spirited odium philologicum that so often marks classical debate. Gene could slice an argument to pieces while still charming its exponent out of the trees."
It's a trait that he passed on to others. One of Gene's most devoted students, Jeanne Reames, now professor of history, University of Nebraska-Omaha, wrote: "When I first started reading on Macedonia, I noticed certain recurring names, frequently cited. Those same authors sometimes had little debates in the footnotes with each other. I started to think of three of them as "The Three Bs": Badian, Borza, and Bosworth. It turned out they all knew each other rather well, and got on, even when they argued theories. Among the things Gene taught me was how to disagree and stay friendly. That was the nature of good scholarship. I have colleagues now who I love dearly, but disagree with, sometimes sharply. It's not at all personal. That's the Gene Borza Effect."
To learn more about Eugene N. Borza and his work, explore the following:
Read about our other Archaeologists You Should Know