Anna Marguerite McCann (1933 – 2017)
First American Woman in the Field of Underwater Archaeology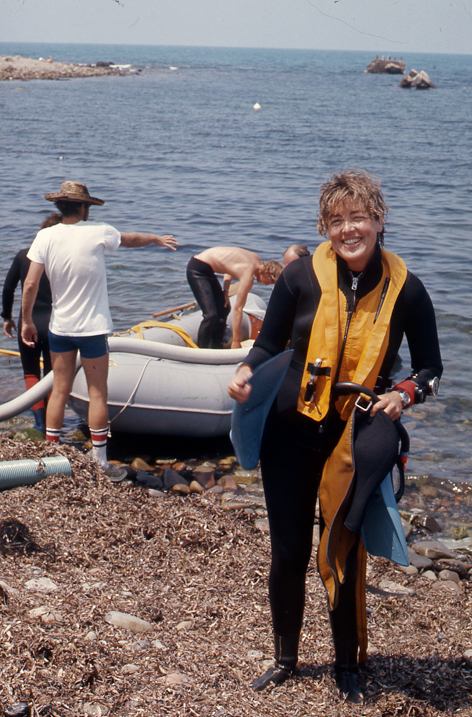 At the close of the first year of the United Nations Ocean Decade (2021-2030), we call attention to the work of Anna Marguerite McCann, best known for her work as the first American woman in the field of underwater archaeology. A champion of experiential and experimental archaeology in deep and shallow water, an advocate for the protection of underwater heritage, and an avid promoter of women in the discipline, McCann received the AIA's Gold Medal for Distinguished Achievement in 1998; her legacy to academic and public archaeology lives on.
We reached out to maritime archaeologist Elizabeth S. Greene to learn more about Anna Marguerite McCann's life and work, and why she is an archaeologist you should know.
Elizabeth S. Greene is an Associate Professor of Classics at Brock University in St. Catharines, Ontario. Her research focuses on maritime economies and interaction in the archaic and classical Greek world and across the Mediterranean, viewed primarily through underwater archaeology. Over nearly two decades she has directed fieldwork on shipwrecks and harbor sites along the Turkish coast, and more recently off the coast of southeast Sicily. As former AIA Vice President for Cultural Heritage and now its First Vice President, her work involves heritage preservation and advocacy; recent efforts on this front highlight connections between long-term human mobility and contemporary dialogs on migration and displacement.
Why did you decide to write about Anna Marguerite McCann?
Together with my eight-year-old son, I have been reading The Lost Wreck of the Isis, the mesmerizing story of a fourth-century CE shipwreck that sailed between Rome and Carthage, and its discovery in deep water by the JASON Project using robotic technology. McCann served as archaeological director of the project in collaboration with Robert Ballard. Included in 1990 by the National Science Teachers Association and the Children's Book Council among their list of Outstanding Science Trade Books for Children, the book exemplifies the appeal of archaeology as a STEAM discipline with its mix of sophisticated scientific technology and humanistic storytelling as a path to understanding the meaning of the past in the present. Through McCann's expertise, the book draws a vivid picture of the diverse participants in ancient maritime ventures and the collaborative efforts of archaeologists and scientists in the recovery of their artifacts and stories—among whom McCann has played a memorable role.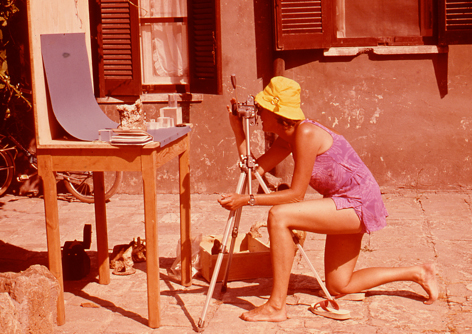 What do you see as McCann's primary achievements?
Anna Marguerite McCann Taggart, known professionally as Anna Marguerite McCann, began her academic career at Wellesley College where she earned her B.A. in Art History with a minor in Classical Greek. She received a Fulbright Fellowship to attend the American School of Classical Studies in Athens before moving on to an M.A. from the Institute of Fine Arts at New York University and a Ph.D. in art history and classics from Indiana University. As a student, she joined Jacques-Yves Cousteau and his team in the exploration of two Roman wrecks off the small island called Le Grand Congloué, across from Marseilles. Upon tasting the contents of an intact amphora raised from the site, still filled with wine, McCann was reportedly disappointed by the world's oldest vintage. Amphoras bearing the marking of the Sestius family, like those recovered from the Grand Congloué shipwreck would hold McCann's interest for much of her scholarly career.
As a Rome Prize Fellow with the American Academy in Rome and photographer for excavations at the hilltop settlement of Cosa on the coast of Tuscany, McCann discovered the remains of harbor fortifications in the sea below and went on to direct excavations at the port and fishery of Cosa. Several campaigns between 1965 and 1987 resulted in the collaborative volume titled The Roman Port and Fishery of Cosa: A Center of Ancient Trade, awarded the AIA's James R. Wiseman Book Award in 1989 and The Roman Port and Fishery of Cosa: A Short Guide, written for general audiences. Her exploration of harbor works, marine engineering, commercial fish farming, and the families involved in the production and transport of wine in stamped amphoras highlight the interdependence of maritime and terrestrial archaeology for explorations of Roman economic history. As McCann describes in the conclusion of the scholarly volume, "This book represents the collaborative effort of archaeologists, architects, scientists, and engineers from the beginning of the project in 1965 through the following years of excavation, research, and writing. Each has had his special contribution and, in turn, we have all drawn upon each other's knowledge."
During the 1970s, in cooperation with Nino Lamboglia, another leader in the field of underwater archaeology and amphora research, and the Instituto Internazionale de Studi Liguri, McCann explored the Etruscan harbors at Populonia and Pyrgi, along the Tuscan coast. Such collaborative endeavors similarly defined her involvement in 1989 and 1997 as archaeological director with the Skerki Bank Project, which used remote-operated vehicles to explore a cluster of deep-water shipwrecks between Sicily and north Africa. The project served as a methodological laboratory for archaeology in the deep ocean environment, refining techniques for robotic recording and excavation, as well as the conservation of artifacts recovered from deep water. Here too, McCann would identify amphoras associated with the Sestius family on a wreck from the first century BCE. The research led to her co-edited volume with Joanne Freed, Deep Water Archaeology: A Late-Roman Ship from Carthage and an Ancient Trade Route near Skerki Bank off Northwest Sicily, as well as a second volume co-edited with John P. Oleson, Deep-Water Shipwrecks off Skerki Bank: The 1997 Survey based on discoveries made during a subsequent return to the area. The latter book concluded with a call for multi-national collaborative archaeology in deep water, guided by professional ethics and the nascent 2001 UNESCO Convention for the Protection of the Underwater Cultural Heritage.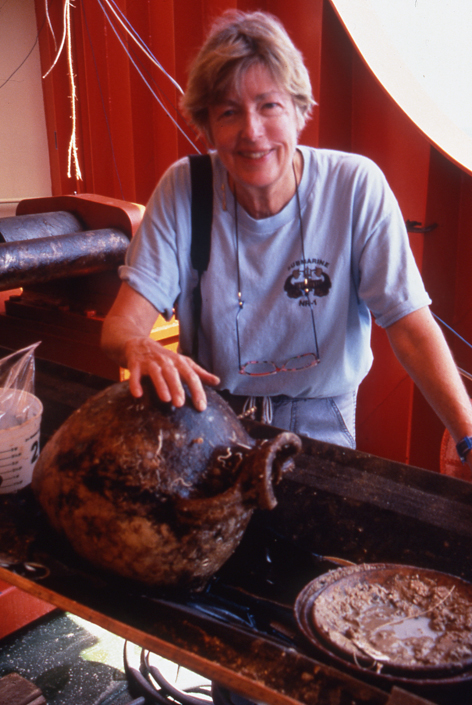 What else should people know about Anna Marguerite McCann?
Best known as a maritime archaeologist of ports, fisheries, and shipwrecks in shallow and deep water, McCann's research underwater also brought her to the study of amphoras, the enduring ceramic markers of trade on the seabed. She established the Roman Pottery Summer School at the American Academy in Rome, named in honor of famed ceramicist Howard Comfort (FAAR '29). A training ground for specialists working on land and underwater, the pottery camp showcased McCann's knowledge, grace and kindness, and her deep impact on the scholarly community. Andrew Donnelly recalls, "She was happy to discuss Cosa with us, and her other experiences, but her interest in pedagogy always came first, and in making sure that the next generation of students could achieve their full potential."
Although McCann chose not to pursue permanent academic positions, she taught at numerous institutions across the United States and her devotion to balancing family, research, and teaching was consistently evident. John Oleson remembers, "As a graduate student, I participated in harbor survey and excavation with Anna Marguerite at Cosa, Pyrgi, and Populonia in the summer of 1970: my very first field project. She was always very solicitous about the comfort of the team, and it was an exciting learning experience. Toward the end of the project I had some ideas to offer about interpretation of some stratigraphic issues. I began by saying that I knew my opinion was not important, but I had something to contribute. Her immediate response was, 'Everyone on an excavation is important!'"
McCann's support of collaborative research, diverse student engagement, and public enthusiasm about archaeology was consistently visible in the wide-reaching philanthropy she offered throughout her lifetime. In her honor, her husband Robert Taggart endowed a lectureship for the AIA in underwater archaeology; her nephews have endowed the Anna Marguerite McCann Award for Fieldwork Reports, as well as the new Anna Marguerite McCann Diversity Student Travel Grants to assist students with travel expenses for attending the AIA Annual Meeting. Despite the many successes and accompanying challenges that marked her extraordinary career, McCann never lost sight of the simple pleasure of waves lapping over her feet, reminding of those places that inspired her heart and mind.
To learn more about Anna Marguerite McCann and her research, please explore the following:
Read about our other Archaeologists You Should Know