September 18, 2020
AIA Webinars: Archaeology Abridged – Short Lectures
---
The AIA is excited to announce a new series of live lectures with award-winning archaeologist Dr. Patrick Hunt. Dr. Hunt offers short, twenty-minute talks on a variety of archaeological topics. The webinars are free, but registration is required.
Webinar 1: The Fall of Civilizations: Famine & Climate Change
Thursday, September 24, 1pm ET on Zoom. (Completed)
Dr. Hunt discusses how famine and climate change impacted past civilizations. 
Webinar 2: Otzi the Iceman's Prehistoric Medical Kit
Thursday, October 22, 1pm ET on Zoom. (Register Now)
Dr. Hunt has studied Otzi for nearly three decades. Discover the contents of the Iceman's prehistoric medical kit which included antiviral and antibacterial remedies. 
Webinar 3: Four New World Foods that Dramatically Changed European Lifestyles 
Thursday, November 19, 1pm ET on Zoom. (Register Now)
Get in the holiday spirit by learning how four New World foods that changed European lifestyles after the 16th century: tomato, potato, corn, and everyone's favorite – Chocolate! 
---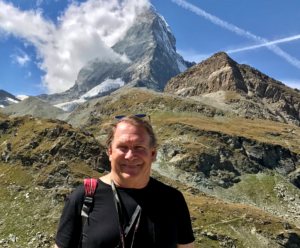 Dr. Patrick Hunt is an award-winning archaeologist, author, and National Geographic grantee. Dr. Hunt earned his Ph.D. in Archaeology from the Institute of Archaeology, University College London, and has taught at Stanford University for 25 years. He directed the Stanford Alpine Archaeology Project from 1994-2012, and has continued project-related fieldwork in the region in the years since. His Alps research has been sponsored by the National Geographic Society's Expeditions Council. Patrick frequently lectures for National Geographic and others on Hannibal and the European mummy nicknamed Ötzi the Iceman. He is also a National Lecturer for the Archaeological Institute of America (AIA) as well as an elected Fellow of the Royal Geographical Society. Dr. Hunt is the author of 20 published books, including Hannibal (Simon & Schuster, 2017), the Penguin best-seller Ten Discoveries That Rewrote History, and Alpine Archaeology. He has also published more than 100 articles, including more than a dozen for Encyclopedia Britannica, mostly on Hannibal. Dr. Hunt has been featured in many National Geographic and NOVA documentaries, and has consulted for BBC and been featured in BBC radio interviews. He has a lifelong love of the Alps, having lived annually for several months in the Alps since 1994 when not in the classroom or on the lecture circuit. Dr. Hunt is also President of the Stanford Chapter of the AIA and has been a member of the AIA since graduate school in 1984. A regular study leader on educational tours, he led an AIA tour of northern Italy in 2017 and 2018 with another one scheduled for 2021.