October 19, 2019
Augustus Pitt Rivers Crowned 2019 ArchaeoMadness Champion
---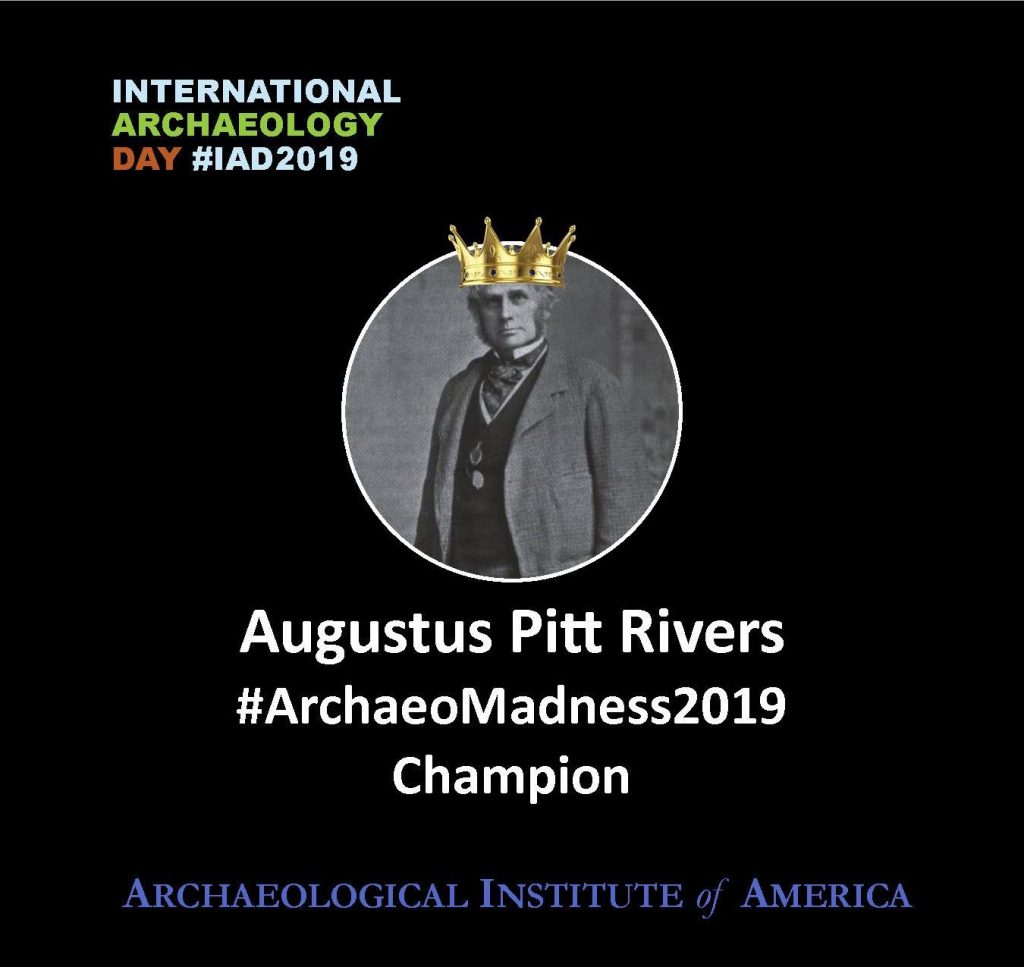 Today is International Archaeology Day and after hundreds of votes were cast over four rounds of voting we are ready to name a new ArchaeoMadness champion: Augustus Pitt Rivers.
Augustus Henry Lane-Fox Pitt Rivers (1827-1900) was an officer in the British army and collected tens of thousands of ethnographic objects from across the world during his life. He developed the idea of typology and classified objects in chronological sequences. His insistence on keeping detailed records on all of the finds at his own excavations, not just the spectacular ones, was unusual at the time and he is regarded by many as the first scientific archaeologist in Britain.
Today, over 26,000 of the items Pitt Rivers collected form the foundation of the collection of the Pitt Rivers Museum at Oxford. Many additional artifacts and papers related to Pitt Rivers are housed at the Salisbury Museum. From 2009-2012 many of the Lieutenant-General Pitt Rivers' letters held by the Salisbury Museum were transcribed and are available online as part of the Rethinking Pitt Rivers research project.
Inspired by March Madness, ArchaeoMadness is a competition that, in 2019, pit sixteen famous archaeologists against each other in a head-to-head competition. The winning archaeologist from each matchup (based on popular vote) moved on to the next round. This was repeated until Pitt Rivers prevailed over Mary Leakey in the championship round.
ArchaeoMadness is a fun way to count down to International Archaeology Day and provides participants all around the world a way to get involved with IAD digitally. Players have two ways to participate: many submitted prediction brackets before voting commenced and even more participants voted each day and entered our daily drawing for fun prizes. One contestant submitted a nearly perfect bracket with only one incorrect pick —he will win our grand prize, a quadcopter drone. To see the final results, see the ArchaeoMadness scoreboard.
Don't forget: International Archaeology Day is today! See the IAD calendar to find events near you. Over 100 events occur today and several more continue through the end of October.
International Archaeology Day Blog