April 24, 2020
Build Your Own Stonehenge Results
---
As modern civilizations hunkered down to combat the spread of COVID-19, the Archaeological Institute of America launched a competition that challenged individuals and families stuck at home to replicate some of the most iconic monuments from ancient civilizations. The AIA's Build Your Own Monument competition invites participants to create miniature models of Stonehenge (deadline: April 17), the Castillo at Chichen Itza (deadline: April 24), the Colosseum (deadline: May 1), and the pyramids at Giza (deadline May 8) from materials found in and around their homes. The Build Your Own Monument competition, originally slated to run in the fall of 2020 as part of the Institute's celebrations of the 10th Anniversary of International Archaeology Day, was moved up to provide people with a diversion from the global pandemic and as an opportunity for them to show-off the baking and crafting skills that are helping to get them through these challenging times.
Submissions for the first round of the competition—Stonehenge—did not disappoint. While the iconic sarsens, trilithons, and bluestones of Stonehenge in southern England represent hundreds of years of effort and huge transportation challenges, homebound archaeology enthusiasts replicated the monument in a much shorter time period with an incredible assortment of materials. The AIA received 34 entries in three categories: adults, youth (K-12), and families. The materials used for these mini-wonders included books, cheese, clay, dominos, kazoos, makeup, toilet paper rolls, and much more! While most entries came from the United States, we were excited to get contributions from Austria, Canada, Cyprus, Kosovo, the United Arab Emirates, and the United Kingdom. The creative, quirky, wonderful submissions are a hit on social media and have attracted media attention—the contest was featured on the Atlas Obscura and Smithsonian Magazine websites this week.
In the Build Your Own Monument competition, two sets of winners are selected each week in each of the three categories: one selection is made by a professional archaeologist celebrity judge and another by popular vote. All winners receive an AIA prize pack. This week's celebrity judge, Mike Parker Pearson, Professor of British Later Prehistory at the Institute of Archaeology, University College London, has been investigating Stonehenge with a team of archaeologists and scientists since 2003. Parker Pearson reviewed the entries and said that he "enjoyed the hugely imaginative use of store cupboard staples and a surprising variety of household objects!" He sends his compliments to all who entered the challenge: "Congratulations to all who took part—it looks as if everyone enjoyed it."
Judge's Picks
Mike Parker Pearson's top picks in each category are:
Youth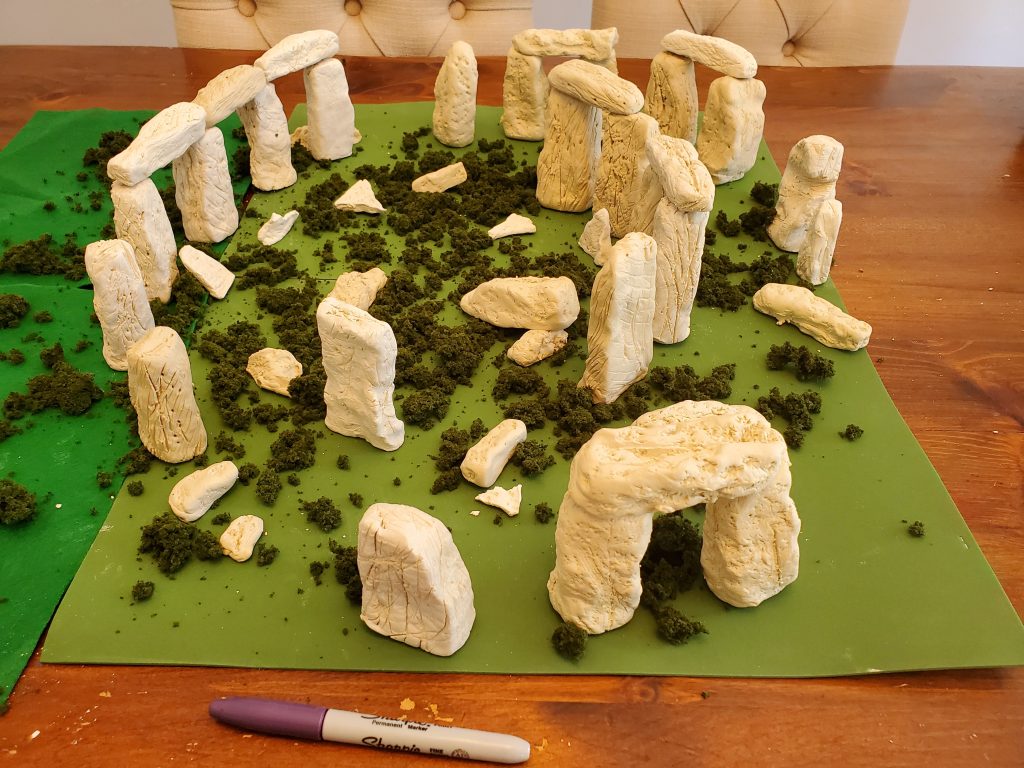 Ryker, Age 12
Camden, South Carolina, USA
Materials: felt, foam paper, clay, foliage foam
Parker Pearson commented that, "this is both creative and accurate with a good background as well as great stones."
Family
Haggerty Family
Dubai, United Arab Emirates
Materials used: apple slices and cucumber peels
Our judge said that the "apple&cucumber-henge made me smile, and I hope it was eaten afterwards!"
Adult
Priya Bhatnagar
Belle Mead, New Jersey, USA
Materials used: marshmallows, paper plate, paint, toothpicks, hot glue
Parker Pearson declared, "Marshmallow-henge is the winner for looking both realistic and tasty."
Parker Pearson sent his compliments to all who entered the challenge: "Congratulations to all who took part—it looks as if everyone enjoyed it."
Popular Vote
In the popular vote, over 3,700 votes were cast over a four day voting period and the following entries came out on top:
Youth
Elijah, Age 11
Ferndale, Washington, USA
Materials used: Styrofoam board, paint, modeling clay
Family
Zafar Family
Durham, North Carolina, USA
Materials used: Sculpey clay
Adult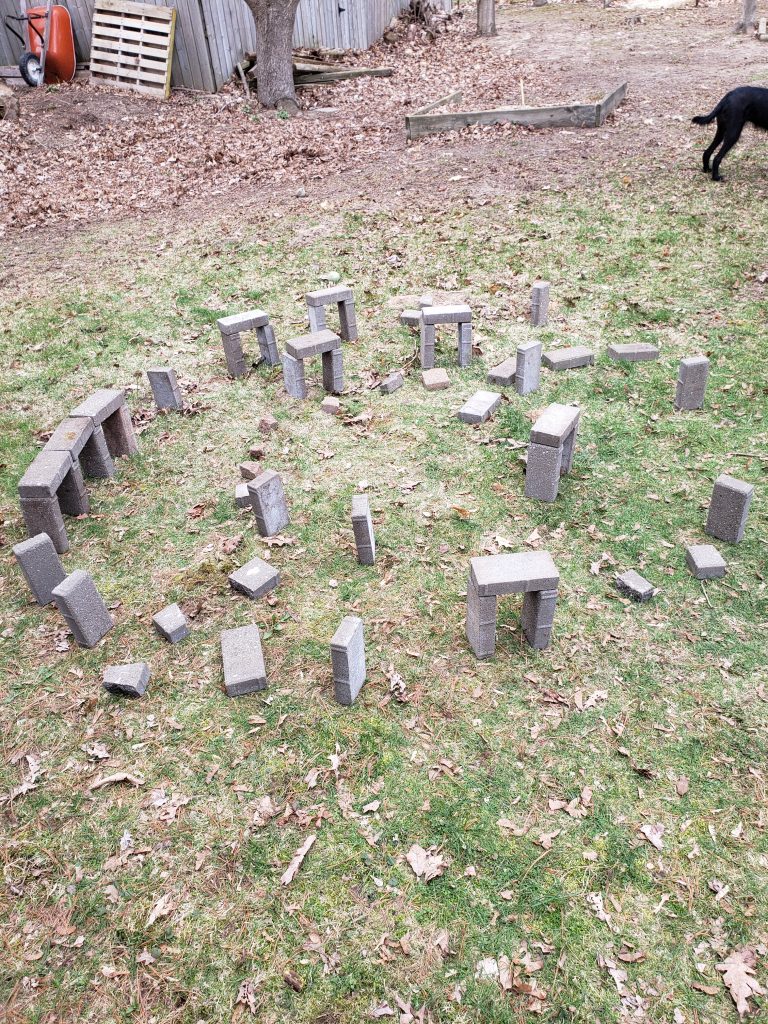 Jacob Beerbower
Fort Gratiot, Michigian, USA
Materials used: gray bricks and a sledgehammer
Bonus Content
The contest even inspired a virtual reality submission from the Brandeis University Digital Humanities Research Group. Enjoy the video walkthrough of their "Marshmallow Stonehenge." In addition, you can join Josephine Kim, a Wellesley College student from Anaheim, California, as she takes you through her Korean snack inspired creation and talks about myths, science, and sentiments at Stonehenge.
We at, the AIA, are thrilled and inspired by everyone's efforts and are excited to share the results with our global audience. We can't wait to see the entries for the remaining monument competitions—the Castillo at Chichen Itza (deadline today), the Colosseum (deadline: May 1), and the pyramids at Giza (deadline May 8). Voting for Chichen Itza submissions will commence on Monday. Build Your Own Monument today and submit your entry and we will see your creation at https://www.archaeological.org/build-your-own/.
International Archaeology Day Blog