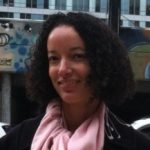 Tuesday, February 22, 2022
7:30 p.m. ET
Join Zoom Meeting
https://davidson.zoom.us/j/99143304841
Meeting ID: 991 4330 4841
Anna Agbe-Davies, "The Mis-Education of Pauli Murray"
About the lecture:
This presentation considers education, womanhood, and signs as refracted through the life of human rights pioneer Pauli Murray, prompted by the archaeological investigation of her childhood home in Durham, North Carolina. It is part of a work-in-progress that investigates the place material culture and the routines of daily life in African American women's struggles for equality.
About the speaker:
Dr. Anna Agbe-Davies, associate professor of anthropology at UNC–Chapel Hill, is a historical archaeologist with research interests in the plantation societies of the colonial southeastern US and Caribbean, as well as towns and cities of the 19th and 20th century Midwest, with a particular focus on the African diaspora. She has worked on sites in and around Jamestown (VA), Colonial Williamsburg, New Philadelphia (IL), and the Phyllis Wheatley Home for Girls on the south side of Chicago.
Register
When placing events on your calendar using these buttons, please check that time zone displays correctly.