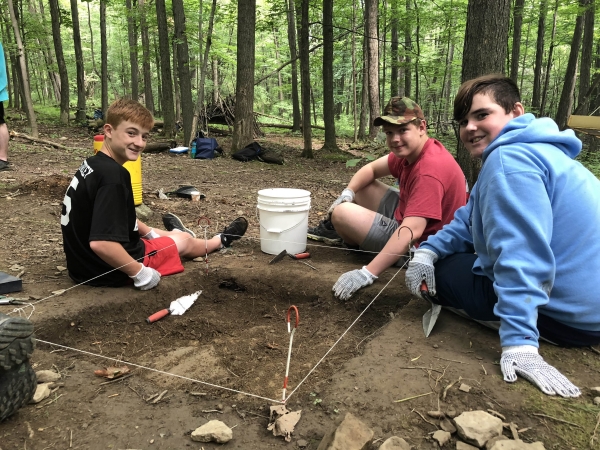 Grab a trowel, hop into the trench, and join archaeology professors and students from SUNY Brockport as we uncover the story of Hall Homestead. Did it burn down or collapse? Where was the kitchen? To whom do the bones and teeth found in the yard belong? Help us literally and figuratively piece together the story of a Euro-American migrant family homestead from the 19th century.
Participants will learn the basics of archaeological field work, including:
Methods of excavation
How to properly clean artifacts
Tricks for identifying artifacts
Guests will also learn about Frost Town, a logging settlement founded in 1792 in the old growth pine forests of the Onondowahgah, or Seneca people. Thanks to the generosity of the Gleason family, Nature Center staff will lead a short hike to the Frost Town cemetery and the former site of one of Frost Town's hydro-powered saw mills. This is a multi-year project that provides public access to the SUNY Brockport Archaeology Field School site, located at the Cumming Nature Center. Each year brings sharper focus to the picture we are collectively forming of a 19th century family home in the middle of a once bustling logging village.
Our archaeology field days are divided into three-hour morning (9am–12pm) and afternoon (1–4pm) sessions. It's ok to come late or leave early for your session! Regular shuttles from the CNC's Visitor Center will transport guests to and from the dig site, (equipped with a porta-potty). We recommend you wear clothes that can get dirty and bring water (we'll have backup)! The experienced excavator may also wish to pack knee pads, but don't worry, we'll have cushions! If you're partial to your home trowel, feel free to pack it! While this program is suitable for all ages, the meticulous nature of excavation may not appeal to all children. Don't worry, we'll have a couple of practice pits for the free-spirited digger in your group!
When placing events on your calendar using these buttons, please check that time zone displays correctly.