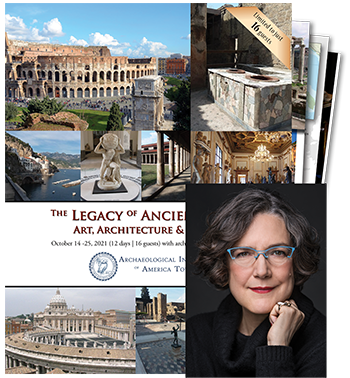 For first-time as well as repeat travelers to this region of Italy, this is a splendid opportunity to share ten days learning and traveling with AIA lecturer and host Ingrid Rowland, who has been a resident of Rome for many years now, plus expert local guides and a professional tour manager to handle all of the logistics. In October the weather is typically perfect, and you will enjoy delicious food and wine as well as excellent, 4-star hotels that are perfectly located for some independent exploration.
Highlights are many and include:
* A custom-designed, well-paced itinerary with five nights in central Rome, two nights in Amalfi overlooking the Tyrrhenian Sea, and three nights in the historic center of Naples
* A full day exploring Rome's ancient monuments, including the Forum and Colosseum (with special entry to the Colosseum's upper levels), plus the House of Augustus on the Palatine Hill
* A full day dedicated to Rome's Capitoline Museums, with their magnificent Classical and Renaissance art; the awe-inspiring Pantheon; and the Borghese Gallery's outstanding sculptures and paintings
* A day trip to Tivoli for visits to Hadrian's Villa, a 2nd-century A.D. complex; and Villa d'Este, a superb Renaissance palace
* A visit to Vatican City, with early entry to the Vatican Museums, including the Sistine Chapel and Raphael Rooms, and the Gregorian Etruscan Museum; plus St. Peter's Basilica, the largest church in the world
* An excursion to Paestum, with its three magnificent, Doric Greek temples
* A high-speed hydrofoil ride to the isle of Capri, with Tiberius' astounding Villa Jovis
* And visits to archaeological gems in and around Naples, including Pompeii and Herculaneum, both of which were buried (and preserved) by the eruption of Mt. Vesuvius in A.D. 79; the superb Naples Archaeological Museum; and Villa Poppea (Oplontis), an ancient villa with splendid wall paintings
When placing events on your calendar using these buttons, please check that time zone displays correctly.