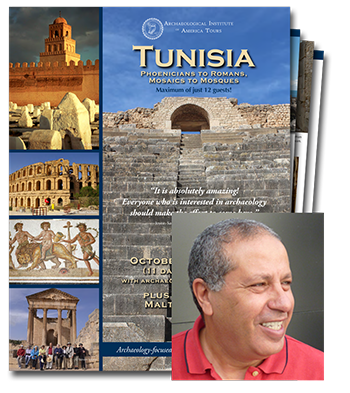 This fascinating itinerary features all seven of Tunisia's cultural UNESCO World Heritage sites, including fabled Carthage, with its museum's unparalleled collection of Punic artifacts; Dougga's splendid 3,500-seat theater and temples; Kairouan's Great Mosque; and El Djem's marvelous 30,000-seat ancient amphitheater. Other highlights include the leadership of our distinguished Tunisian archaeologist and visits to Bulla Regia's underground Roman villas, Temple of Apollo, and 4th-century theater; Thuburbo Majus's Forum, Temple of Mercury, and sunken winter baths; and the Bardo Museum's renowned exhibits of ancient mosaics.
Seize the opportunity to also visit the cultural treasures of Malta on our optional, 4-day extension featuring the megalithic temples at Tarxien, Hagar Qim, Mnajdra, and Ggantija; Hal Saflieni Hypogeum; and the splendid medieval cities of Valletta and Mdina.
Maximum of just 12 travelers!
When placing events on your calendar using these buttons, please check that time zone displays correctly.