September 5, 2012
Haverhill Historical Society to Host Event During Month of October for National Archaeology Day
---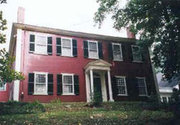 The Haverhill Historical Society will sponsor an event titled "Tombstones and Trowels" at the Buttonwoods Museum in Haverhill, Massachusetts. The event will take place on October 27th, giving visitors the opportunity to participate in a mock dig, scavenger hunt, and more. The society will promote National Archaeology Day by posting information at the museum/visitors center and on their Facebook page.
See the National Archaeology Day Events Calendar
More information about how your organization can become a Collaborating Organization for National Archaeology Day.
International Archaeology Day Blog