August 9, 2018
May/June 2018 COs
---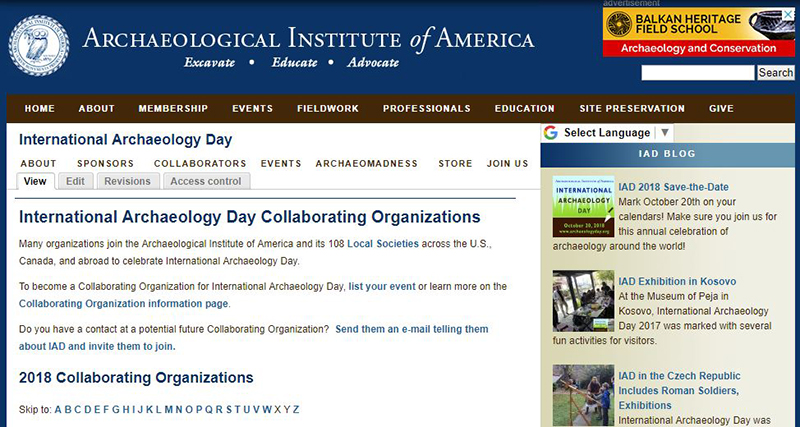 Advance planners got the jump on promoting IAD 2018 this year and garnered some publicity for their organizations on our website along the way. Some 120 groups were listed on our Collaborating Organizations page during May and June! Accessing these CO links on our page brings archaeological enthusiasts to the homepages of organizations that value archaeology and promise to host and/or provide information about the topic during the month of October, particularly on Saturday October 20th, IAD's date for this year.   
Participating organizations include many returning collaborators as well as a few new ones, and range from community libraries, local historical commissions, and regional archaeology associations, to universities, professional journals, museums, and national parks. COs come from all over the US and several other countries including the Czech Republic, Spain, Italy, Slovakia, Georgia, Russia, and Myanmar, to name a few.
The following list includes the organizations that signed up for IAD 2018 by the end of June:
American Research Center in Egypt – New York, NY Chapter
American Research Center in Egypt – Pennsylvania Chapter (ARCE-PA)
American Research Center in Egypt – Washington DC Chapter
Archaeologists for Autism
Archaeology Southwest
Archeological Society of Virginia
Archeopark Pavlov
Beaches Museum and History Park
Beaufort County Library/Beaufort District Collection
Bossier Parish Libraries History Center
Brazoria County Historical Museum
Brown University, Haffenreffer Museum of Anthropology
Buttonwoods Museum
Byzantine Studies Association of North America (BSANA)
C.H. Nash Museum at Chucalissa
Camp Bayou Outdoor Learning Center
Cannon Beach History Center & Museum
Čáslav Municipal Museum and Library
Charles Towne Landing State Historic Site
Charlotte County Historical Center
Cincinnati Art Museum
Clarke Historical Museum
Classical Association of the Atlantic States
Colorado Parks and Wildlife – Roxborough State Park
Concord Museum
Cotuit Library
Council for British Archaeology
DCRT-OSP Port Hudson State Historic Site
Desert Institute at Joshua Tree National Park
Eastern New Mexico University, Department of Anthropology and Applied Archaeology
Fort Griffin State Historic Site
Fort McKavett State Historic Site
Foss State Park
Fundación para la Protección del Patrimonio Arqueológico, Inc.
Great Delta Bear Affair​​​​​​​
Guadalupe-Nipomo Dunes Center
Hill Country Archeological Association
Indiana University of Pennsylvania, Department of Anthropology
Iniciativas de Investigación y Actividad Creativa Subgraduadas (iINAS)
Instituto Olho D' Água
Jamestown Rediscovery Foundation
Jeanerette Museum Board
Journal of Open Archaeology Data
Kedah Sungai Batu Archeo-Adventure Society
Kennesaw State University
Kleb Woods Nature Center
Knox College
Lafayette Science Museum
Luther College
Main Street Guymon
Manchester Land Conservation Trust
Marquette Regional History Center
Massachusetts Board of Underwater Archaeological Resources​​​​​​​
Maya Research Program
McClung Museum of Natural History and Culture
Militancia Cultural, Inc.
Mississippi Valley Archaeology Center, University of Wisconsin – La Crosse
Mount Allison University​​​​​​​
Museum of African American History
Museum of Indian Arts and Culture​​​​​​​
Museum of Peja / Muzeu e Pejës
Muzeum Blanenska, p. o.
Múzeum mesta Bratislavy
Muzeum T. G. M. Rakovnik
National Heritage Institute, České Budějovice
National Heritage Institute, Pilsen
National Park Service Archeology Program
National Park Service – Ala Kahakai National Historic Trail
National Park Service – Boston African American National Historic Site
National Park Service – Guadalupe Mountains National Park
National Park Service – Harpers Ferry National Historical Park
National Park Service – San Juan National Historic Site
Nebraska Association of Professional Archeologists
New Jersey State Museum​​​​​​​
Newlin Grist Mill
Ohio History Connection
Oklahoma State Parks
Open Quaternary
Oregon Archaeological Society
Oshawa Museum​​​​​​​
Parco Archeologico di Travo (Pc), Italy
Plains Anthropological Society
Pueblo Grande Museum
Rhode Island Historical Preservation and Heritage Commission
Riverside County Parks and Open Space District​​​​​​​
Robot for Archaeology – The Heron Project
Royal Ontario Museum
S.S.T. Tourism Co., Ltd.
Samara State Institute of Culture
San Diego Archaeological Center​​​​​​​
San Diego County Archaeological Society
San Luis Obispo County Archaeological Society
Society for American Archaeology
Society for Historical Archaeology
South Carolina Institute of Archaeology and Anthropology​​​​​​​
Spencer-Peirce-Little Farm
Spiro Mounds Archaeological Center
Springfield Museums​​​​​​​
Texas Historical Commission
Texas Outdoor Education Association
Thomas Jefferson Foundation
Town Creek Indian Mound State Historic Site
Trent University Durham
​​​​​​​Tripolitana – Regional Museum Prešov​​​​​​​
Ubiquity Press
Universidad de Puerto Rico – Recinto de Río Piedras
Universidad Europea de Canarias (UEC)
University of Arizona, Center for Middle Eastern Studies
University of Cincinnati, Department of Anthropology
University of Cincinnati, Department of Classics
University of Georgia
University of Missouri, Museum of Art and Archaeology
University of South Alabama Archaeology Museum
University of Virginia
Ventress Memorial Library​​​​​​​
Vergilian Society
Virginia Museum of Natural History
Virtual Curation Laboratory
West Bohemia Museum
Witte Museum
Be sure to check back for more sign ups in the coming months or click here to see the full list of Collaborating Organizations.
To learn how your group can become a Collaborating Organization, visit our info page.
Find International Archaeology Day events in your area.
International Archaeology Day Blog