May 8, 2020
Results for Week 3: Build Your Own Monument—the Colosseum
---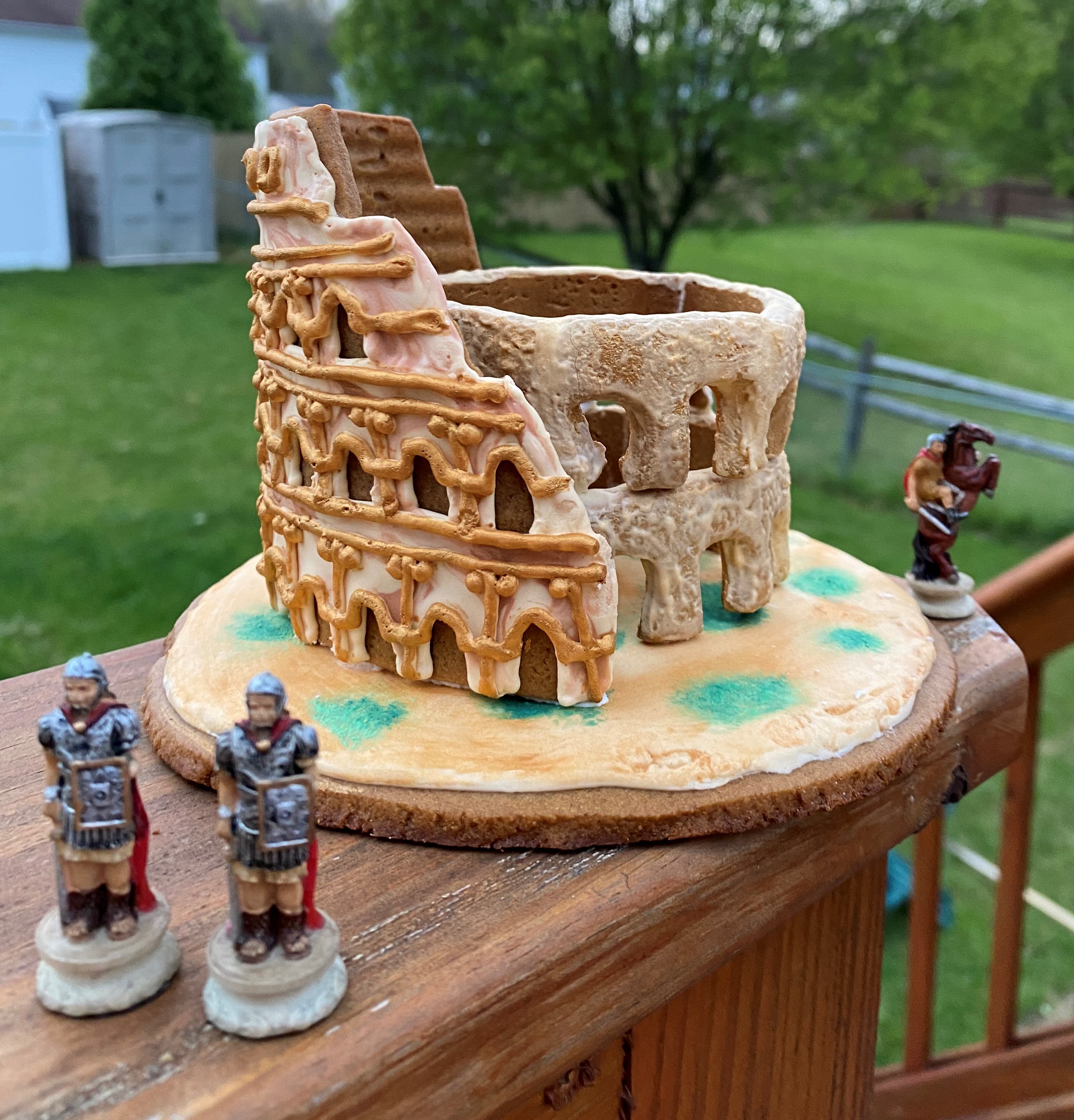 While Rome wasn't built in a day, many of the Colosseum entries in the AIA's International Archaeology Day Build Your Own Monument competition were! In the third week of monument building, 68 contestants in the Youth, Family, and Adult categories took on the challenge of reconstructing the nearly two thousand year old Flavian Amphitheater. The original Colosseum, made from travertine limestone, tuff, and brick-faced concrete, could have held between 50,000 and 80,000 spectators. The much, much smaller IAD Build Your Own Monument entries were made of Jenga blocks, cake, salt dough, cardboard, Rice Krispies treats, cardboard, corks, pasta, hockey pucks, sweetgum seed pods, and even a wasp nest!
This week's celebrity judge, Nathan Elkins, Associate Professor of Art History at Baylor University and author of the recently published book, A Monument to Dynasty and Death: The Story of Rome's Colosseum and the Emperors Who Built It (Johns Hopkins University Press, 2019) was impressed (and hungry). His top picks were:
Judge's Picks
Youth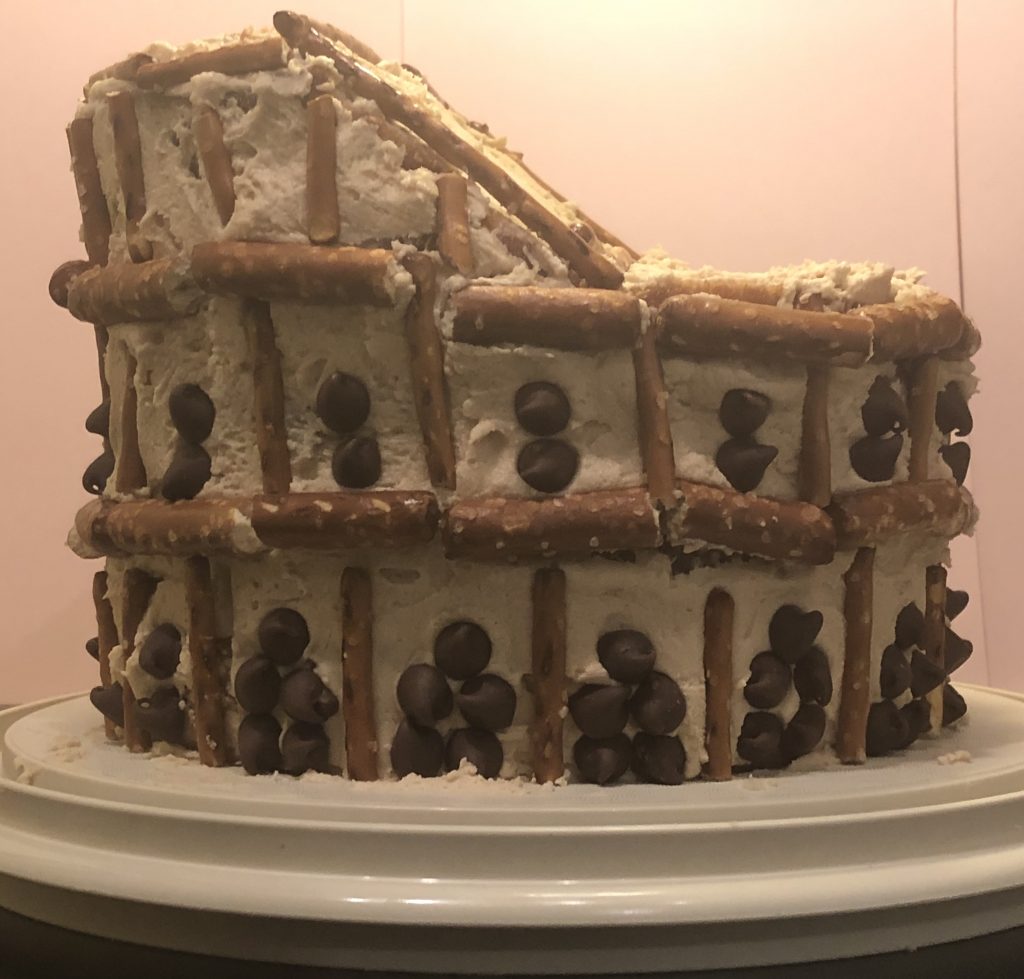 Kathleen, Age 14
Nashville, Tennessee, USA
Materials used: cake, peanut butter frosting, pretzel sticks, chocolate chips
Elkins was impressed with the technique and the materials used for this winning entry: "This is immediately recognizable as the Colosseum, with an appetizing combination of cake, peanut butter frosting, chocolate chips, and pretzel sticks!"
Family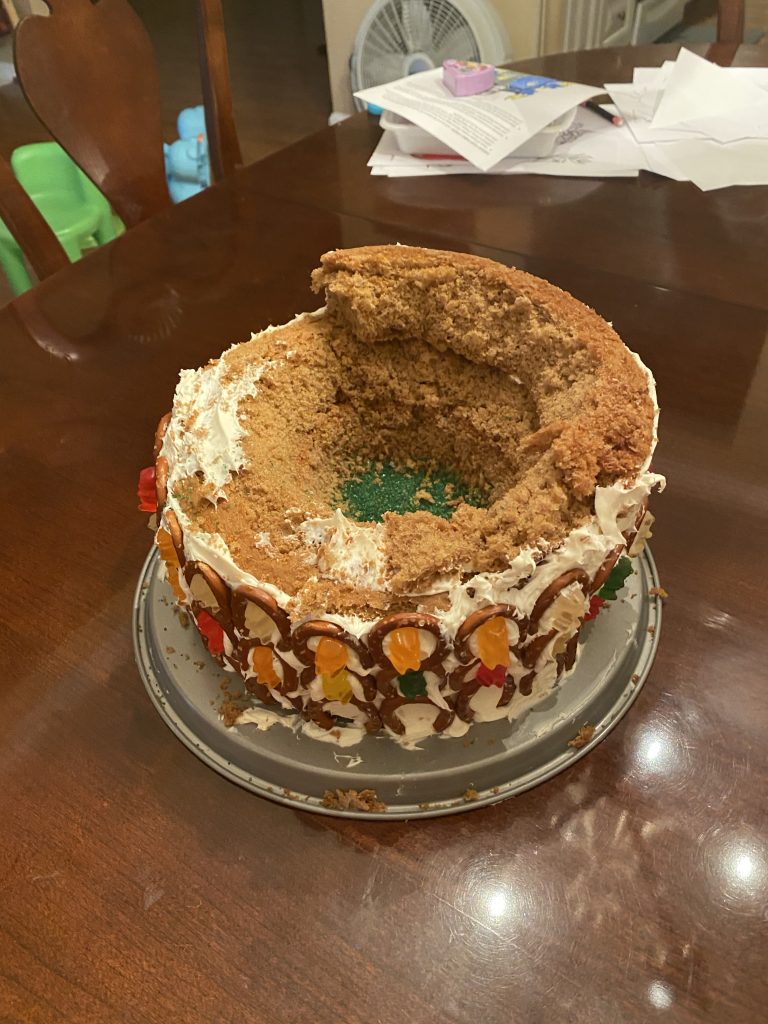 Jenkins-Martinez Family
Charles Town, West Virginia, USA
Materials used: Spice Cake, cream cheese frosting, pretzels, gummy bears, green sprinkles, & ginger candy
Our judge gushed: "A Colosseum cake, complete with gummy-bear statues! What else could one want?"
Adult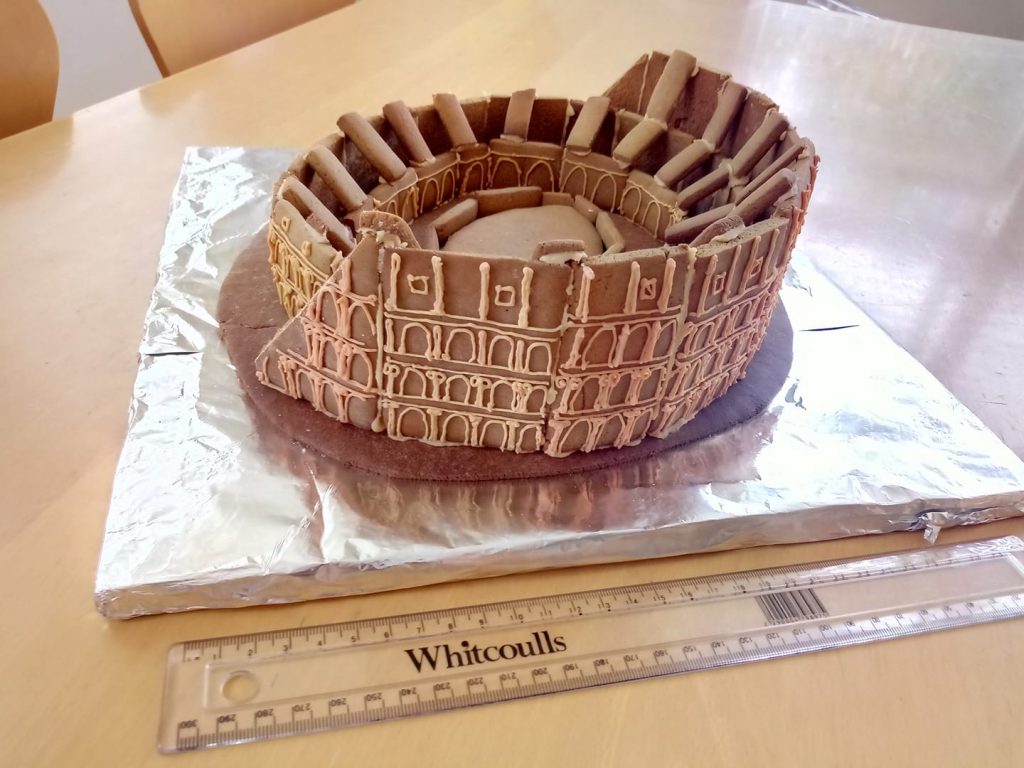 Christopher Hayward
Auckland, New Zealand
Materials used: Gingerbread and royal icing
Elkins provided high praise for this gingerbread entry: "A very realistic Colosseum with delectable materials; I shouldn't judge when I am hungry!"
Popular Vote
In the popular vote, nearly 13,500 votes were cast over a four day voting period and the following entries came out on top:
Youth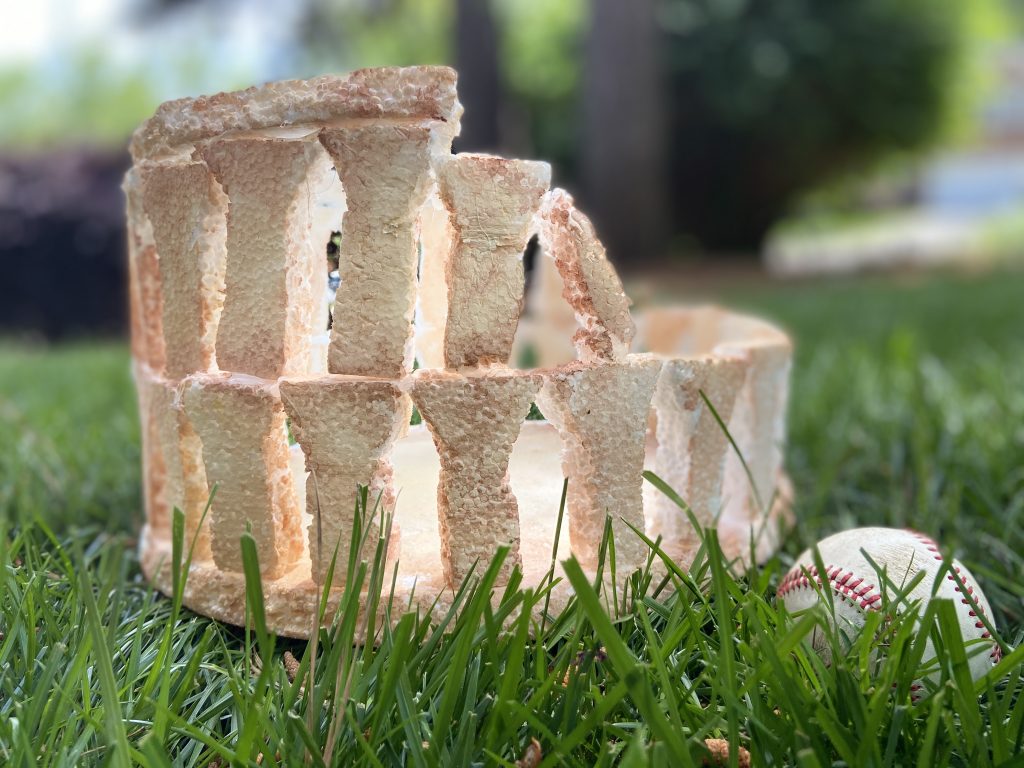 Erika, Age 11
Cary, North Carolina, USA
Materials used: styrofoam, hot glue, and paint
Family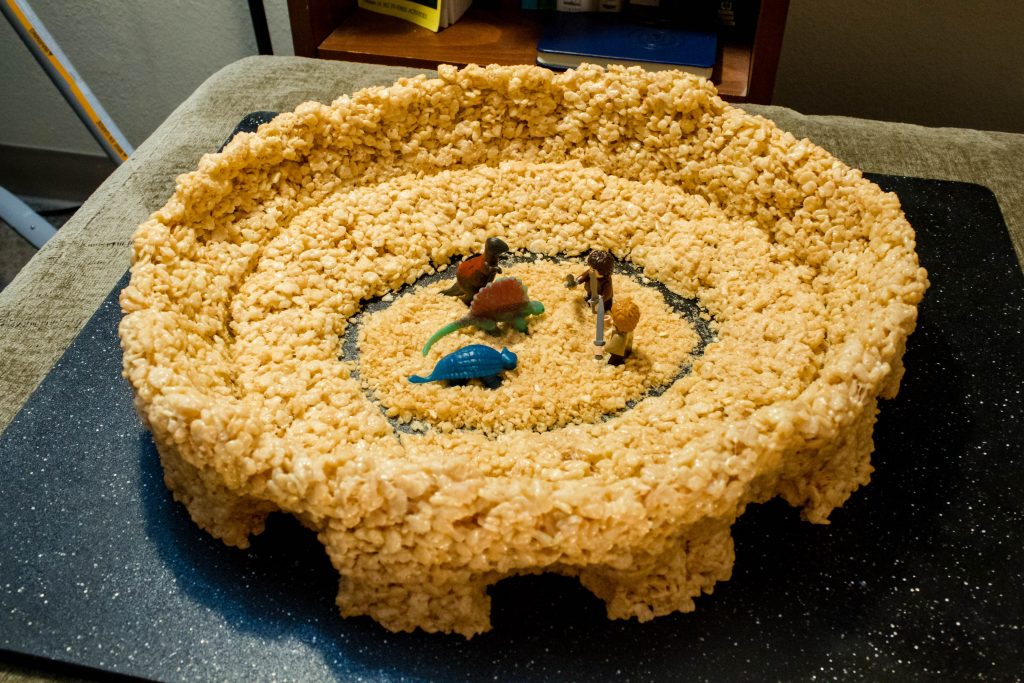 Familia Mickelsonium
Tucson, Arizona, USA
Materials used: The walls are made of Rice Krispies treats (with added marshmallow for increased stability), and the sand of the arena is crushed Rice Krispies. In the center, famed gladiators Frodinium and Samwisicus (LEGO minifigures) are fighting fearsome beasts from the far corners of the empire (plastic dinosaurs).
Adult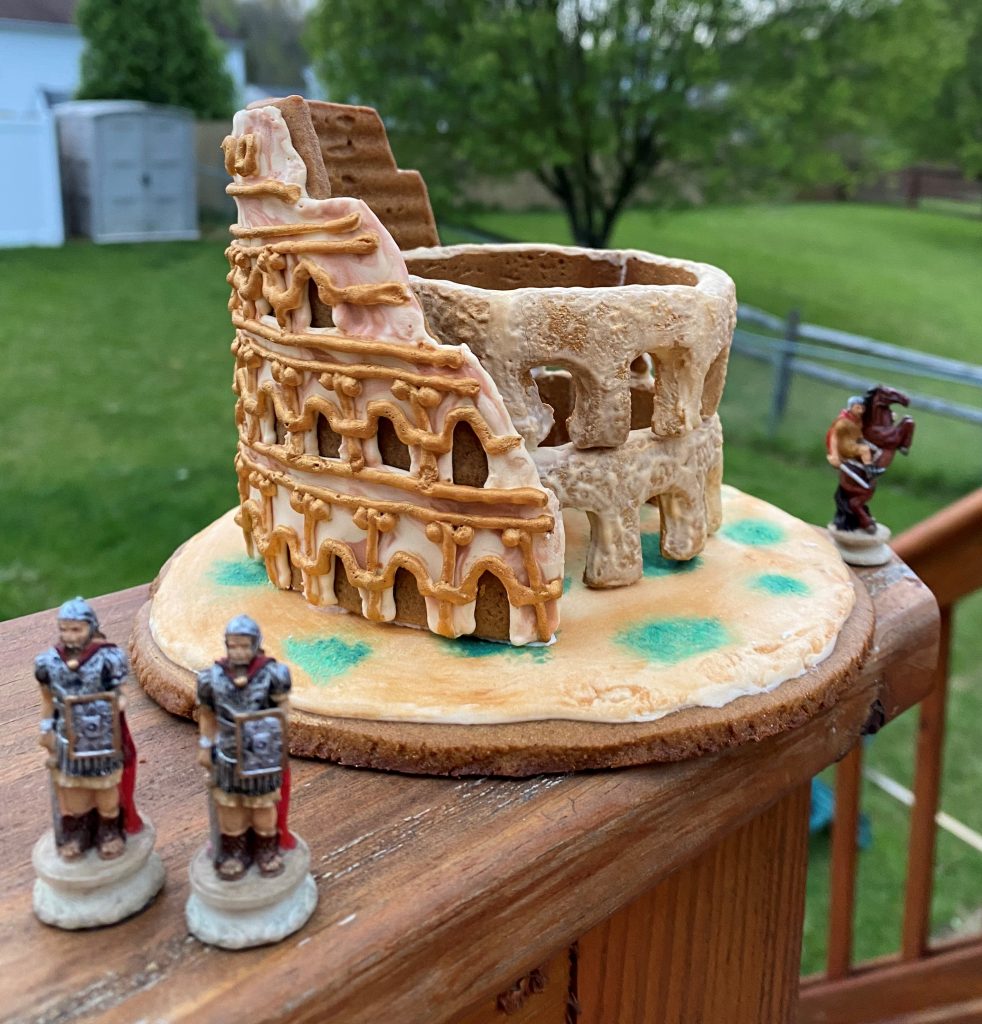 Liza Vance
Alexandria, Kentucky, USA
Materials used: Gingerbread and Fresh Lemon Royal Icing
Congratulations to all who took part in this week's challenge. We're looking forward to seeing your many creative takes on the Pyramids of Giza (submission deadline today) next week. Voting on the Pyramids of Giza entries will commence Monday afternoon. Build Your Own Monument today and submit your entry and we will see your creation at https://www.archaeological.org/build-your-own/.
International Archaeology Day Blog