Achill Island, Ireland: Jared
July 3, 2014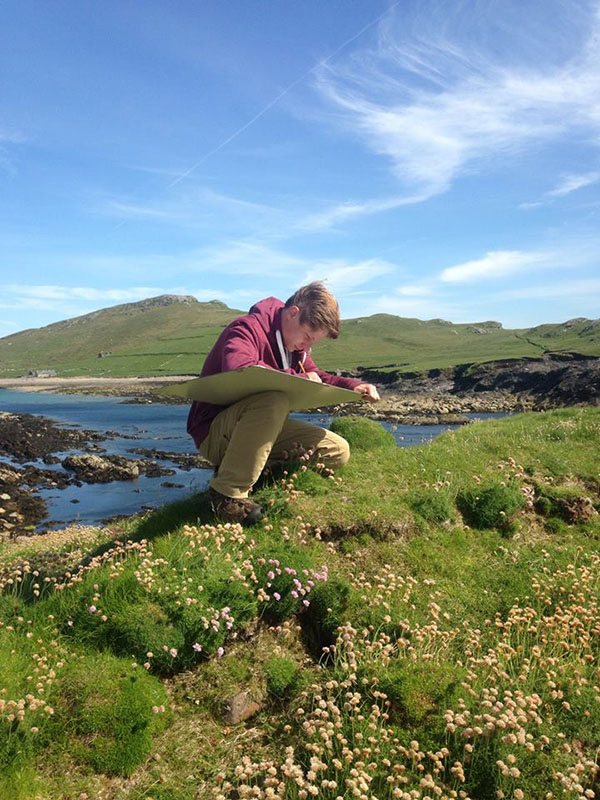 I am from Minneapolis Minnesota and I am studying anthropology at Normandale Community college in Blumington Minnesota.  The Achill field school caught my eye when I was doing some research on a variety of field schools through the internet that I thought would be suitable for me.  The first time I began to conduct research on a suitable field school for me was during my second semester as a senior in high school and luckily there were an abundance of field school option on the internet at that moment and the Achill field school was one of them.
I narrowed my choice of field schools down to a list of three which included projects in Oregon, Rome, and Achill.  I figure the one in Rome was out of my league because I haven't been to a field school before and there was a requirement that I would have had to have at least a total of three months training in field archaeology.  Furthermore, I ruled out the field school in Oregon because of the living conditions.  Finally, I narrowed down my options to the Achill field school in Ireland.  I chose this archaeological field school because their web site was very well informed and they described the material that I would be learning during my stay very well, but one of the main reasons why I chose the Achill field school was because it is accredited meaning that I could gain some valuable credits toward my degree.
The closest thing to archaeology that I have experienced would be a time when I was about thirteen and my father and I decided to check out this old foundation on his land.  We took a metal detector and a couple shovels with us in order to see if we could find anything cool.  We ended up finding several pieces of rusty old metal, a brick, a couple pieces of handmade pottery shards that actually fit together, a broken piece of a tile, and a several massive pieces of rusty old metal that we think was a part of an old wagon.  After that I did some research on some of the artefacts we found in order to get some sort of idea when this structure had been built.  I began by researching when people started and stopped make pottery by hand and based on the information I gathered on that subject I estimated that it could date from the early 1800's.  I hope to one day return to this old foundation with the knowledge I have learned through taking part in several field schools in order to properly record and excavate this place.
I learned many valuable methods of excavation during my stay here on Achill.  I learned how to set up a trench, trowel properly, survey areas, use auto cad, fill out context sheets and so much more.  My favourite part of doing an excavation is troweling.  I find it extremely satisfying when I manage to get the edges of the trench I would be working on extremely strait.  Another awesome aspect on the subject of excavation that I found interesting and enjoyable was the process of recording the stratification of the different soils within one of the walls of a trench.
During week six we went on a field trip to see one of the booley villages in Achill.  There was some great scenery on this part of the island and many interesting booley houses.  Not only were there booley houses but there was also an old fishery down by the lake there and there was also the remains of a Neolithic portal tomb not far off from where the beach is.  Once we were done looking at the booley houses, the fishery and the portal tomb, we decided to check out the beach.  Some of the students when for a swim, but Julien and I went for a walk along the cliffs, and some of the other students decided to go for a walk around the beach. 
All in all the Achill field school has been a wonderful and valuable experience.  I will always remember my time here on Achill.  I could see myself returning to the field school or at least Achill one day in the future.  I would definitely recommend this field school to anyone interested in archaeology or even to anyone interested in visiting Ireland.   I have learned so much here and I will use what I have learned to aid me in my carrier of archaeology.
Interactive Digs:
---