Achill Island, Ireland: Lauren
December 4, 2014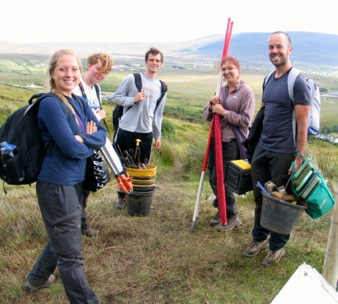 Lauren Sibigtroth here, I am an alumni of the University of Pittsburgh where I studied Environmental Studies and Anthropology.  I was blown away when I experienced the wonderful archaeology of Achill Island as a student during the summer of 2013. This made going back this previous summer (2014), as a Trainee Supervisor, a no brainer! 
Initially, I chose the Achill Field School for its study abroad opportunity and academic credit, issued by the National University of Ireland, Galway.  The array of credits offered successfully helped me to accomplish my double major at my home university, fulfilling requirements in both subjects. My first trip only lasted one month but gave me an enlightening experience of a different culture as well as making long lasting friendships.  My decision to go back for half the summer of 2014 was built upon my previous knowledge and the desire for a stronger working background in archaeology.
The Field School itself is an amazing place with a lovely Archaeology Centre and adjoining Accommodation Block, so we did not have far to walk to use the library and other facilities. The prospect to learn first hand from qualified teachers, together with a group of students from all over the world was not to be missed. The School provides a comfortable and easygoing atmosphere in order for each student to fully benefit from its many resources.  The class size is small for one on one teaching methods which helped me feel more at ease with being taught in a different country. I always felt very much at home. Speaking of home, the really comfortable accommodation offered is a great set up that helps you jump out of your shell and have fun with new roommates. The different groups of people I had the privilege to live with always felt like a small family; we frequently had "family dinners" and inside jokes that followed us all the way to site for some daily entertainment. I still keep in touch with a few quite regularly! You are truly able to express yourself and get a little goofy while attending the Field School.
My job as the Trainee Supervisor gave me a behind the scenes look at an archaeological dig. I am unbelievably grateful to have been a part of such a role that has greatly helped me with general job and life skills. The Director of Fieldwork, Stuart Rathbone, truly shaped me to take charge of the daily workload and assist new students get comfortable on-site.  He taught me specific techniques such as how to set up a site, and how each part of a site fits together like a puzzle piece revealing a big picture towards the end.  Accomplishing his tasks on time and up to his very high standards helped me feel much more motivated in other aspects of my future career and possibilities. This was something similarly motivated people would easily benefit from.  The staff and curriculum taught by the Field School encourages you to pursue your personal passions within archaeology and even offers advice and support towards future endeavors that may be focused in another discipline or science field. There are various lectures through out the summer by invited guest speakers from Irish and British universities that cover aspects of archaeology of all periods  – a vast amount of time, so finding a niche is easy.  I love archaeology but thanks to the Field School I have discovered that I have stronger passions in other science fields.
Achill is a beautiful place; at times it felt like I was living in a travel brochure, especially on-site.  The day-to-day life up on Slievemore was always full of surprises, mini-lectures and hands on teaching, along with the best part  – getting your hands dirty! The idea that you were physically revealing something that hasn't been uncovered for many, many years is exciting. Many of us would make up stories about the possible lifestyle the inhabitants may have lived, or conjure up something more creative and unlikely.
At first I was worried about the Field Notebook I was asked to keep up to date (which would benefit most students) until after my first week where it became my mini life source. Keeping track of the site forced me to be organized and in the game, ready to dish out any little bit of information Stuart might request. I felt on top of my information since our site became occasionally confusing.  The Cromlech Tumulus site was ever changing; throwing curveballs here and there about what it could possibly be, which was always a task to explain to the visitors each day! I learned how to put together a dig step by step starting from the initial base pegs to the step up of each trench's perimeter. By the end of the summer I was fully confident with gathering and processing information regarding soil and charcoal samples, classifying finds, creating context sheets and drawing the site to scale, using AutoCAD and ArcGIS to name just a little of what I was taught! Students were organised into small groups on site, which created an advantage for everyone to cycle through and master each task and piece of equipment while staying fully involved.
The island helps you slow down, focus and learn in an environment that is fun and full of adventures. You meet people you may stay close with for years, networking availabilities, professors from all over with various backgrounds in archaeology. All of this while living on the gorgeous West Coast of Ireland locally called the Atlantic Way – like I said before, no brainer! 
Interactive Digs:
---