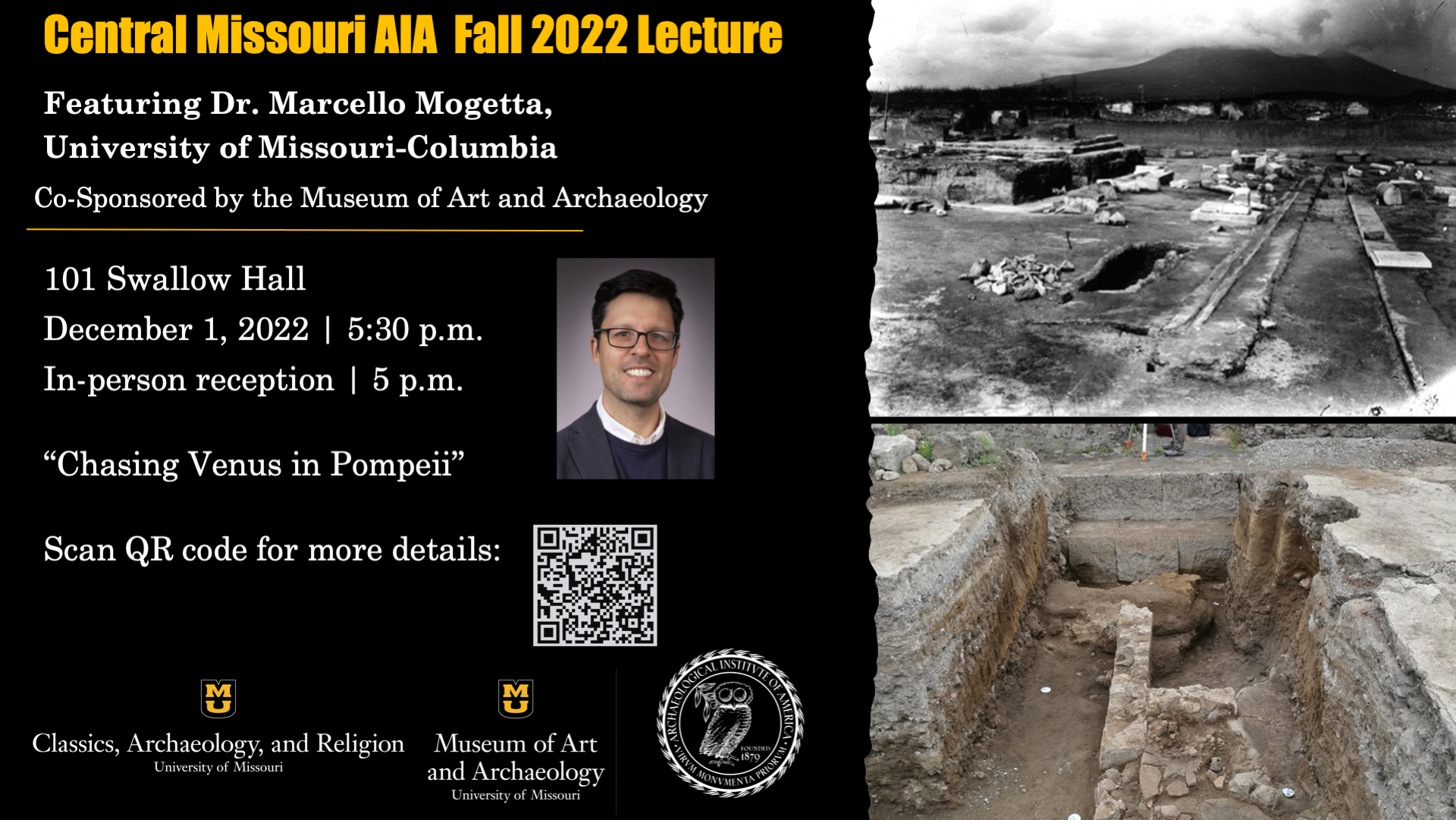 Join us in person for our last lecture of 2022, co-sponsored by the University of Missouri-Columbia Museum of Art and Archaeology! The lecture will be presented by Dr. Marcello Mogetta (Associate Professor of Roman Art and Archaeology, University of Missouri-Columbia). A reception (open to the public) will be held in Swallow Hall at 5 pm, with the lecture beginning at 5:30 pm.
The abstract is below:
he dating of the temple complex dedicated to Venus Pompeiana, the tutelary deity of the Roman colony of Pompeii, has been the subject of considerable debate in recent years, with important implications for the overall interpretation of the monument and of its historical and cultural significance. Previous studies have variously assigned the full-fledged monumentalization of the sacred site to the late Samnite era, the early colonial phase, or the Caesarian period. While past excavations have revealed that the area was first settled much earlier, the controversy about the nature of the original site and the creation of the first temple presents radically different views of the coming of the Romans to Pompeii. Was the sanctuary an ancient place of pride for a local goddess that is honored even when the Romans take over—a not uncommon occurrence – or is it a case of a Roman goddess being imposed on the local population to make a statement about conquest? Five consecutive seasons of fieldwork and study by the Venus Pompeiana Project, a collaborative initiative launched in 2017 by the University of Missouri and Mount Allison University under the auspices of the Archaeological Park of Pompeii, have now produced a critical mass of data that prompts a recasting of the building history of the monument and its broader topography. Diagnostic finds from the construction levels of the temple podium, open court, and east portico place the erection of the monumental sanctuary only in the Augustan period, which is considerably later than normally assumed. The discovery revolutionizes our understanding of the socio-political context behind the dedication. Taking advantage of the role that the goddess already played, at least nominally, for the Colonia Veneria, the Pompeians could actively participate in the imperial propaganda and create a special connection with the center of power.
When placing events on your calendar using these buttons, please check that time zone displays correctly.