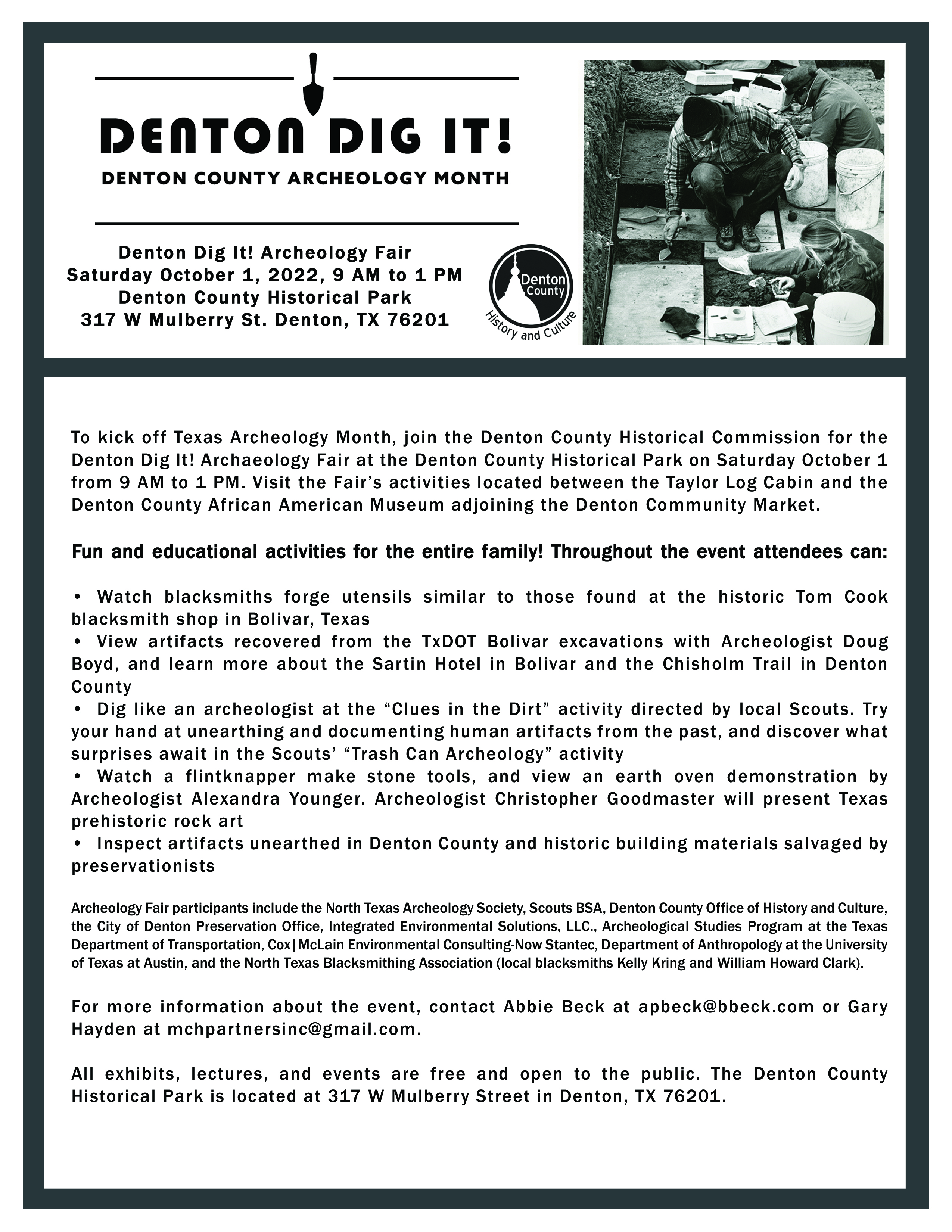 To kick off Texas Archeology Month, join the Denton County Historical Commission for the Denton Dig It! Archaeology Fair at the Denton County Historical Park in Denton, Texas on Saturday October 1 from 9 AM to 1 PM. Visit the Fair's activities located between the Taylor Log Cabin and the Denton County African American Museum adjoining the Denton Community Market.
Fun and educational activities for the entire family! Throughout the event attendees can:
• Watch blacksmiths forge utensils similar to those found at the historic Tom Cook blacksmith shop in Bolivar, Texas
• View artifacts recovered from the TxDOT Bolivar excavations with Archeologist Doug Boyd, and learn more about the Sartin Hotel in Bolivar and the Chisholm Trail in Denton County
• Dig like an archeologist at the "Clues in the Dirt" activity directed by local Scouts. Try your hand at unearthing and documenting human artifacts from the past, and discover what surprises await in the Scouts' "Trash Can Archeology" activity
• Watch a flintknapper make stone tools, and view an earth oven demonstration by Archeologist Alexandra Younger. Archeologist Christopher Goodmaster will present Texas prehistoric rock art
• Inspect artifacts unearthed in Denton County and historic building materials salvaged by preservationists
Archeology Fair participants include the North Texas Archeology Society, Scouts BSA, Denton County Office of History and Culture, the City of Denton Preservation Office, Integrated Environmental Solutions, LLC., Archeological Studies Program at the Texas Department of Transportation, Cox|McLain Environmental Consulting-Now Stantec, Department of Anthropology at the University of Texas at Austin, and the North Texas Blacksmithing Association (local blacksmiths Kelly Kring and William Howard Clark).
For more information about the event, contact Abbie Beck at apbeck@bbeck.com or Gary Hayden at mchpartnersinc@gmail.com.
When placing events on your calendar using these buttons, please check that time zone displays correctly.