July 11, 2013
Zominthos Field Notes 2013: Introduction
---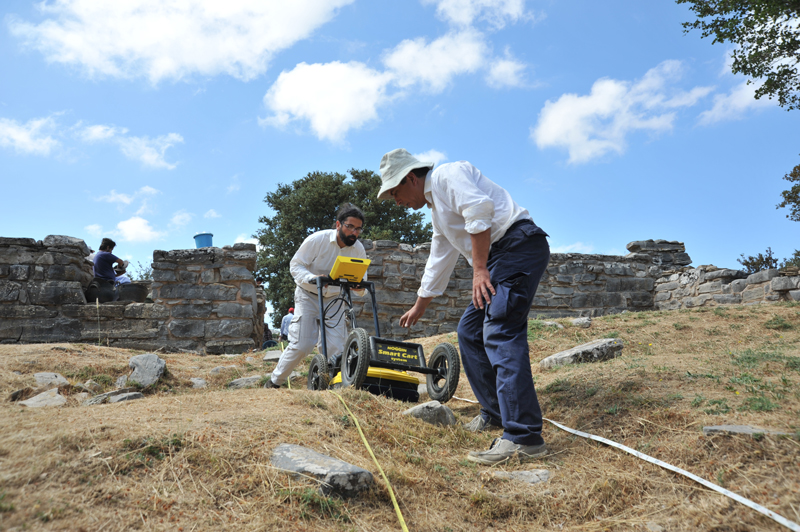 Preliminaries
The excavation of the Archaeological Society at Athens at Zominthos commenced on the 1st of July under the direction of Efi Sapouna-Sakellaraki with the aim to complete the work in several areas of the Building, which started to be excavated in the previous years and also expand the investigated areas to other parts of the Building which have not been excavated before. This year, the team consists of 7 archaeologists: Yannis Georgiou, Constantinos Papadopoulos, Angelos Boufalis, Giorgos Georgakopoulos, Katerina Mpoukala, Eleni Christaki, Giorgis Kalomoiris, and 2 archaeology students: Erato Vemou and Sofia Zeimpekoglou.
Specifically, we will continue the excavation in Rooms 7, 8 and 9, where large quantities of colored plaster and frescoes have been unearthed. Research so far indicates that these rooms are not only plastered, but also have frescoes with various motifs (e.g. floral), as well as others which have not been identified yet. The excavation also continues in Room 26, where we revealed last year three fruit stands and a bronze vessel. As well, the excavation goes on at the east of Room 26, in Corridor 10, in order to reach the level of the ground, where a paved floor has started to appear. Also, Corridor 21 will also be excavated, since it connects the central corridor of the Building with the rooms at the eastern part of the building.
In the next weeks, more trenches will open in Zominthos Central Building in order to get a better picture for the problematic areas of the site. In particular, we will continue the excavation at the so-called staircase, where the light well is located (Room 19). In addition, Room 4, as well as the rooms at the southeast and southwest part of the building, which have been destroyed by looting activity in the previous decades will be investigated.
In parallel to the excavation, an experienced worker restores the walls of the building which have been affected by earthquake that destroyed the building , as well as the heavy rain and snowfalls during the winter. Also, a team of conservators restores the frescoes revealed in the last years, while the use of technological advancements help in recording and interpreting buildings and artefacts. Lastly, in parallel to the excavation a geomagnetic prospection was undertaken by the Lab of Geophysical-Satellite Remote Sensing and Archaeoenvironment (FORTH – Institute of Mediterranean Studies).