Blackfriary, Ireland: Lauren
January 25, 2016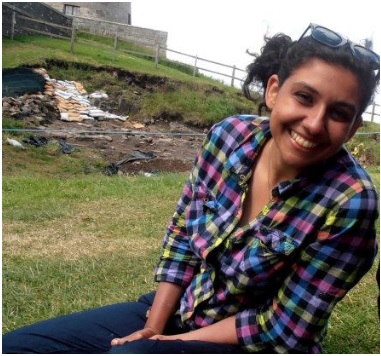 Lauren Nofi was awarded an internship scholarship with the IAFS for the 2016 winter season. Lauren will be writing a weekly blog as part of her work program. The following is the first in her blog series, written as part of her application for the scholarship.
Hello and welcome to the Black Friary blog for Winter 2016! This space will be updated weekly with news about our site, interesting archaeological tidbits, and definitely some pictures of us hard at work and in various states of filth. We'll also of course discuss our finds and features. We're all still getting prepared for this winter session but wanted to drop a line because we're busy and excited!
First off, introductions! My name is Lauren, and I'll be your blogging host for this mini-season. I have a BA in Anthropology and MA in Archaeology, and I'm this session's intern! I'm an American but my research has mostly been in Ireland and the UK. This is my first season with IAFS but not my first in Ireland, so I'd like to quickly share some thoughts.
Getting ready to open the site is always an exciting time, but it's really important to be prepared for the upcoming weeks of hard work to make the most of your time at the site. Remember this session is a winter session, so pack accordingly. Don't forget the essentials like your phone and some cash (especially if you are from outside the Eurozone). If I could impart one thing in this entire blog post it's LAYERS. I know you'll probably be packing economically (as I intend to), but it's so much easier to find appropriate work clothes for the weather any given day if you have layers to mix and match and add or remove. Also footwear is super important; make sure you have sturdy, comfortable work boots. Waterproof trousers are always a helpful bit of gear, as well as a waterproof jacket. Really it's up to you for work clothes, as long as you're protected from the elements. You'll most likely see me rocking some pretty confused outfits, all in an effort to stay comfortable, dry, and warm.
Whether or not you're taking this course for credit, it is definitely beneficial to bring a notebook. You'll be learning how to use equipment, take measurements, and of course get to hear some great presentations, so having a place to jot down notes about the contexts you were encountering or questions you want to answer is going to make your experience even better. By the end of your time on-site, you'll have the beginnings of a field notebook. A notebook and your trusty trowel will probably be your best friends this season. (Other than me. Sorry, you're reading my blogpost so we're automatically friends.) Speaking of trowels, my trowel is named Bufort, and he's been with me for years. He's very handsome for a trowel. Ask me about his dramatic backstory if you have thirty minutes to waste.
Coming to a new site, let alone coming to a new country, is always going to be a little nerve-wracking, but just remember we're all in this together. Yes, it's a horrible cliché, but it's one of the truest things about a dig. We'll all do great work when we can work as a team. No one is an expert on their first dig, so we expect you to have questions. We're here to answer them. It'll take a little while to learn things like the recording and cataloguing systems, which differ from site to site but often include the same type of information. It'll take a little while to "get your eye in" on-site and recognise features and contexts you're working with. I'll be right there with you, learning about this fascinating site. And I already know it's going to be a great season.
Lastly, in addition to our daily work, there will be time to explore Trim and the surrounding areas. We'll go on excursions to some really incredible places and get to see some of Ireland's phenomenal archaeological heritage.
I hope you're as excited as I am. There's so much great stuff in store for our winter session, so please follow along.
Lauren's Blog
Interactive Digs:
---