September 6, 2019
Ferrycarrig 2019: Cutting 4
by Ruth Dorton (ISFS intern 2019)
---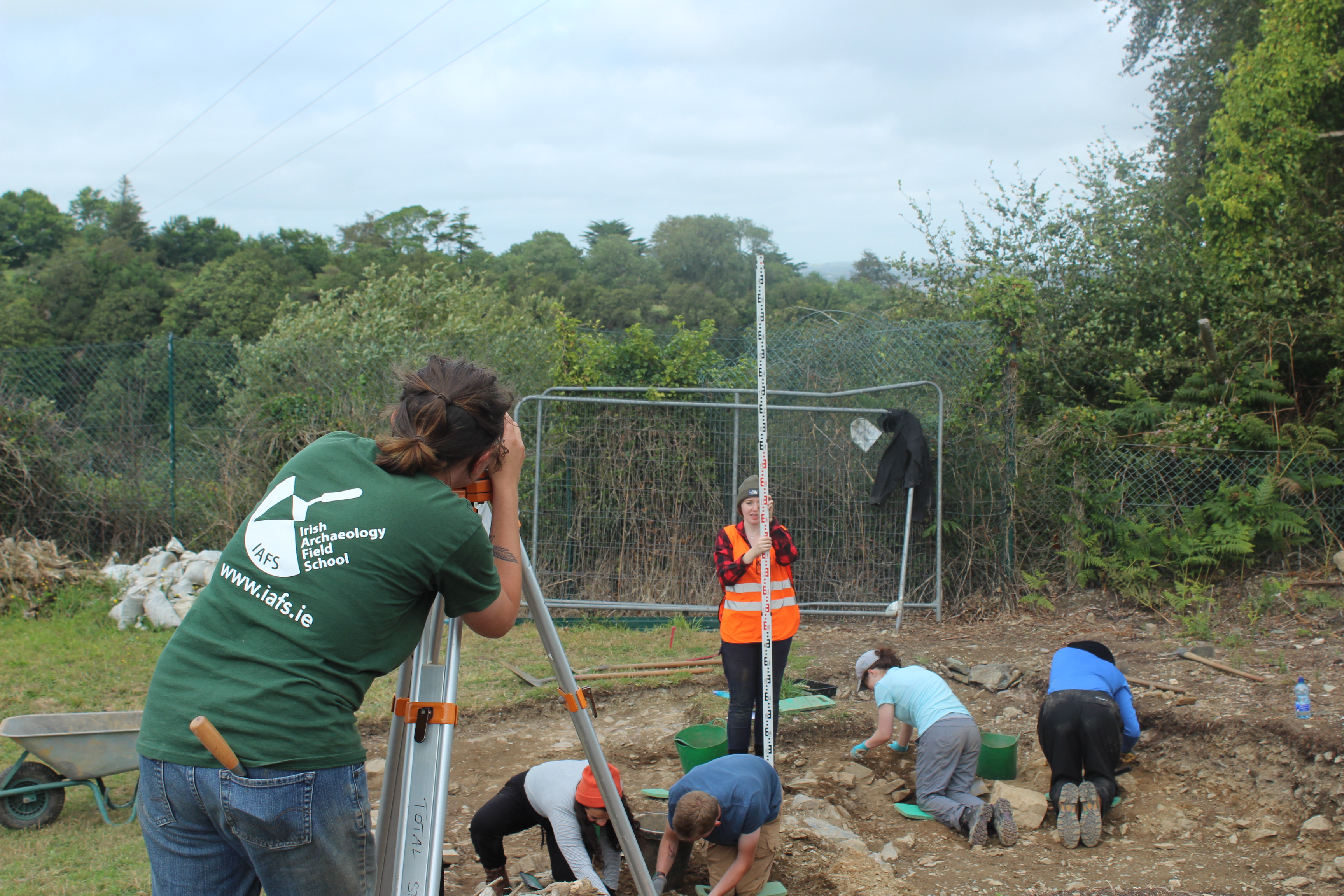 Maynooth University Excavation Programme – July to August 2019
This week was the beginning of our summer excavation season with the arrival of students for our two-week excavation programme with Maynooth University. I was positioned in Cutting 4 for the duration of the programme.
Cutting 4 started this summer as a test trench to the depth of the 12th century occupation layer, which was about 1 metre below topsoil. Right now, the cutting is being expanded from 1x4m to 5x8m. The goal of the test trench was to find the eastern and northern walls of the possible chapel that was uncovered in Cutting 3. Expanding the cutting on both sides of the test trench increases our chances of finding the walls, which would help to establish how large the structure was.
In order to expand the cutting, the first thing we had to do was finish removing the topsoil. Then, the students within Cutting 4 were separated into two groups and worked to bring each side of the cutting to the same level. It was a tough few days mattocking in the warm and sunny weather! One of the most challenging parts of this was removing the stump of a large tree in the southern end of the cutting. We spent two days digging to expose the roots so they could be cut. Actually moving the stump out of the cutting and into a wheelbarrow was also difficult and required three people!
Once the stump was removed, several lines of rubble became clear. Almost directly under the stump there was a line of rubble with a layer of gravel underneath. The combination of this stone and two clear cuts in the layers indicate that the area was a robber trench, which means the stones from the walls were robbed away. We now know how far the northern wall extends but are still missing the corner of the eastern wall.
There were two other changes in the soil that looked unique; to record all the soil changes and the lines of stones (which may be significant), the students created a plan of the whole cutting. As Cutting 4 is quite large, the students worked in two groups and each planned half of the cutting and then worked together to record its height above sea level. It was interesting to see that the height of the stones in the robber trench is very similar to that of the stones from the wall in Cutting 3.
This cutting will continue to be excavated throughout the summer, and we are excited to learn more about it!
This blog describes the IAFS's excavation programme with the Institute for Field Research. For more details or if you are interested in participating visit: iafs.ie/ifr-summer-4wk