October 14, 2009
Zominthos Field Notes 2009: Weeks 3 & 4
---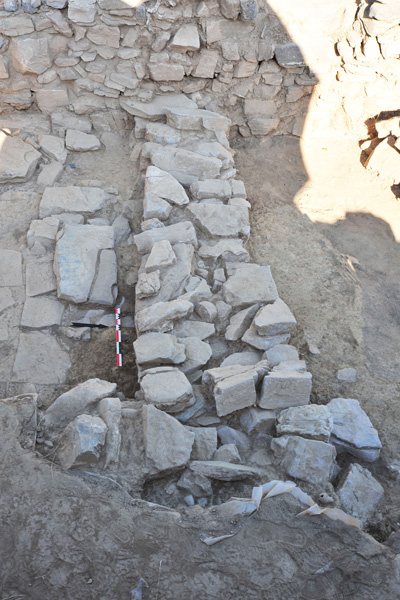 Area 1
We kept removing stones from the partition wall (the foundation has now been totally unearthed). In the fill at the southern part of floor, we found 12 vessels, most of which were handle-less conical cups, along with a bell-shaped cup, a miniature cup, and a milk jug. In addition, we discovered three grinders, a quartz crystal, some bones, and carbonized wood. Lastly, the excavation continued across the wall of room 14, which had been covered by the fallen stones.

We revealed several big fragments of burnt wood, which may come from fallen beams, as well as four cups and many bones. In the meantime, we opened a test trench under the floor of room 15, in order to see if there were any earlier phases. In total, we removed three layers, along with many sherds, carbonized wood, and a few bones. The second layer mainly contained sherds, as well as an accumulation of charcoal and small burnt stones. At the eastern side of the wall—in the passageway of the workshop complex—we found four vessels (three handle-less conical cups and a milk jug) and two grinders.
[imagebrowser id=31]
Area 2
We tried to determine whether the courses of stones that were revealed last week were part of a wall or had just fallen there. We removed the surrounding soil, many large stones, and the underlying soil. Although we have not yet finished investigating the area, we think it is likely that this structure formed part of a wall. We also revealed a thick layer of lepidha (decomposed schist), which was used as an insulating material for floors and roofs. We found more than 10 complete vessels (mainly handle-less conical cups), which we removed during the last days of the excavation. In total, during the four weeks of the excavation, we unearthed 51 complete vessels and more than 50 fragmentary ones. Lastly, we uncovered a bronze brooch.
[imagebrowser=32]
Area 3
We opened 14 more trenches this week and found nine vessels (mainly conical cups), ample sherds, and many pieces of carbonized wood. In addition, we unearthed several pieces of plaster, as well as great quantities of bones. One of the most interesting finds was a column base. The excavation that finished this week proved the existence of walls that were shown by the geomagnetic prospection, and helped us complete the existing ground plan for the Central Building.
[imagebrowser=33]