July 3, 2011
Zominthos Field Notes 2011: Introduction
---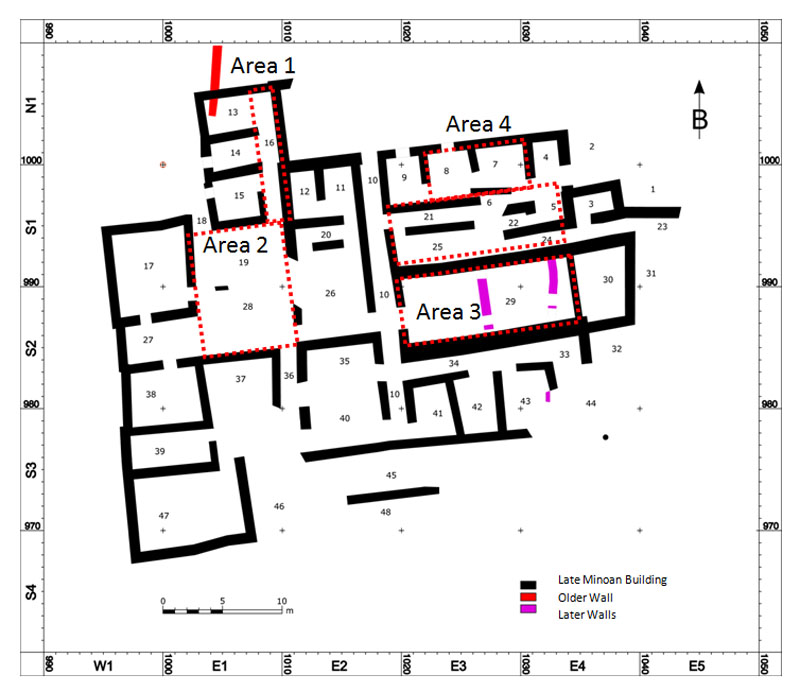 [ngg src="galleries" ids="55″ display="basic_slideshow"]
On Monday, July 4, 2011, the excavation at the Zominthos Central Building continues after the death of Prof. Yannis Sakellarakis under the direction of his wife Dr. Efi Sapouna-Sakellarakis. The excavation will take place in 4 Areas (fig. 1).
Area 1 (fig. 2), is the corridor (16) that connects Rooms 13, 14, 15 (ceramics workshop complex), and has been previously excavated in 1980s and in 2005-2009 as part of the excavation in these rooms. The purpose of this year's excavation in this area is to remove the remaining fill, especially eastern of the Rooms 14 and 15.
Area 2 (fig. 3) is at the southern part of the Central Building (19/28) and was excavated in 2008-09. A wall was uncovered, while there are indications that a staircase may have existed on the eastern side of the room. We will continue the dig in this area to reveal any remaining architectural elements and complete the plan of the Central Building.
Area 3 (fig. 4) is located at the south-eastern part of the Central Building and was excavated in 2010 season. We found walls that form four rooms of the Roman period, as well as a rectangular hearth. Under the Roman layers remains of the Old Palace and the Neo-palatial period were unearthed.
Lastly, Area 4 (fig. 5) is located at the north-eastern part of the building. The excavation will be mainly focused on Rooms 7 and 8, where great quantities of plaster covering the walls were revealed in previous sessions. The conservation of the plaster from Room 7 is already in progress. Also, as part of the work in this area we will clean up the adjacent Rooms 5, 6, 21, 22, 24, 25 so as to complete the plan of the Central Building.
Simultaneously with the excavation at the Central Building we will continue trimming the bushes and the trees at the region, a tradition that Yannis Sakellarakis started three decades ago.