VPP Staff Members
Dr. Marcello Mogetta: Co-Director
Marcello Mogetta (PhD, Michigan) is Assistant Professor in the Department of Ancient Mediterranean Studies at the University of Missouri-Columbia. His research focuses especially on first millennium BCE Italy, and combines formal architectural study, stratigraphic and archaeometric analysis in the field and lab, and digital techniques of recording and visualization of ancient remains and artifacts. He was the winner of the AIA Cotsen Grant for First Time Directors in 2018. He conducts fieldwork at Pompeii and Gabii to elucidate the nature and structure of Italian urbanism in its broader Mediterranean context, and the implications of Rome's expansion on the development of élite architectural forms. He is particularly interested in the complex and ambiguous relationship between the formation of a distinctive Roman material and visual culture, the influence of Greek tradition, and the agency of non-Roman patrons and builders. In collaboration with the MU Museum of Art and Archaeology and the Capitoline Museums in Rome, he also co-directs the CaLC-Rome project, which uses the 3D modeling and surface analysis of ceramic vessels from the Esquiline necropolis of Rome in order to reconstruct their manufacturing process and life cycle.
ams.missouri.edu/people/mogetta
mizzou.academia.edu/MarcelloMogetta
Dr. Ilaria Battiloro: Co-Director
I am Associate Professor in the Department of Classics at Mount Allison University. After receiving a BA from the University of Naples "Federico II", and a specialization degree from the Graduate School of Archaeology of Matera, I took a PhD in Classical Archaeology at the University of Alberta. Since 2000, I have focused my research on my long-standing interests in the native populations of ancient Basilicata from the 6th century BCE to the Roman conquest of the Italian peninsula, with special emphasis on cult places and religious manifestations. In addition to co-directing the Venus Pompeiana Project, I am principal investigator of a research project on the necropolis of Tricarico, Serra del Cedro (Matera, Italy).
mta-ca.academia.edu/IlariaBattiloro
Dr. Dan Diffendale: Topographer and Digital Data Supervisor
Daniel P. Diffendale (Ph.D., Michigan; B.A., Penn) is an archaeologist specializing in the 1st millennium BCE central Mediterranean, with a particular interest in religious architecture and construction. He is the winner of the Dorothy and Lewis B. Cullman Rome Prize for 2019-2020 with his project Quarry provenance and Archaeological Dating of the Roman-Area Tuffs in Antiquity (QUADRATA). Formerly a research fellow in the Department of Ancient Mediterranean Studies at the University of Missouri, Columbia, and a research associate of the Kelsey Museum of Archaeology, he has worked as topographer for the Sant'Omobono Project in Rome, as well as topographer and trench supervisor for the Mt. Lykaion Project in Greece, and has also worked at Trebula Mutuesca, Corinth, and several sites in the United States.
hcommons.org/members/diffendale/
Ivan Varriale: Field Director
Born in Naples in 1974, I hold degrees in Conservation of Cultural Heritage from the University Suor Orsola Benincasa of Naples and in Classical Archaeology from the University of Basilicata. A specialist in Roman wall-painting, I was adjunct professor of Classical Archaeology at the University Suor Orsola Benincasa of Naples (2009-2010), Visiting Researcher at the University of Tokyo (from 2004 to 2009), German Archaeological Institute fellow (2011) and Fritz Thyssen Stiftung postdoctoral fellow (Förderung italienischer Nachwuchswissenschaftler an deutschen Institutionen in Italien, 2013). From 2004 to 2009 I was Technical Director (SOA OS25, OS2) of the restoration company Euris srl. I have been a member of or consultant in numerous international scientific projects and excavations since 1997, most recently serving as scientific director of excavation and restoration projects linked to the Grande Progetto Pompeii. I am currently the Technical Director (SOA OS25, OS2) of the restoration company Omnia Restauri srl. I am the founder of Archeologia a Napoli (Archaeology in Naples) born with the aim of financing independent scientific research in the field of archaeology and cultural heritage, and the editor of the series "Enolibro, pagine da bere" published by Valtrend.
independent.academia.edu/IvanVarriale
Matt Harder: Photogrammetry
Matt Harder is a Ph.D. Candidate in Classical Archaeology at the University of Missouri-Columbia. Prior to his doctoral studies, he received a B.A. in History from the University of Georgia and an M.A. in Classics from the University of Arizona. His research interests include cultural interaction in Pre-Roman and Roman Italy, the role of material consumption in the construction and expression of social identities, and digital tools in archaeology. Besides working on the Venus Pompeiana Project he also works as a topographer on the Gabii Project. His current dissertation project is focused on the Umbrian town of Amelia. It aims to illuminate how non-Romans adapted to increasing contact with Rome and negotiated their place in the emerging Roman state.
Mattia D'Acri: Trench Supervisor
Mattia D'Acri is a graduate of the Scuola di Specializzazione in Archeologia – Matera and is currently a PhD student in the Classical Archaeology program at the University of Missouri-Columbia. His main interest is the study of ceramics, with particular focus on the Protohistoric and Archaic periods in central-southern Italy. He has done fieldwork at Rome (S. Omobono; Regia), Gabii, and Francavilla Marittima and published on various aspects of the pottery assemblages recovered from these sites.
Parrish Wright: Trench Supervisor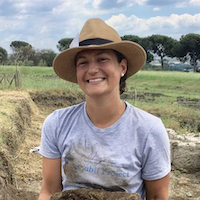 Parrish Wright is a Ph.D. Candidate in the Interdepartmental Program in Greek and Roman History at the University of Michigan and the 2019-2020 winner of the Samuel H. Kress Foundation Rome Prize. She received her B.A. from McGill University in Honours Classics in 2012. Her research focuses on the literary and material articulation of civic and group identities through origin stories in southern and central Italy. She is interested in how mythology can be used to build diplomatic and political relationships throughout the Mediterranean. Parrish is also an assistant field supervisor at the Gabii Project.
Janan Assaly: Assistant Trench Supervisor
I'm a Canadian undergraduate student studying Classics and History at Mount Allison University. My passions include studying ancient women and Italian archaeology. I participated in the Venus Pompeiana Field School in 2017, and returned as a field assistant in 2018.
Lorenzo Arbezzano: Assistant Trench Supervisor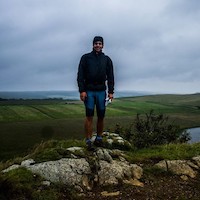 Born in Turin, Lorenzo is an MA student in Archaeology at the Sapienza University of Rome. He obtained a BA from the same institution, with a thesis on the building phases of the Curiae Veteres sanctuary that sparked his interest in Roman architecture. For his MA thesis, he is conducting research on altars from several Hellenistic sanctuaries in Lazio, Abruzzo, Molise, and Campania. Prior to joining the Venus Pompeiana Project, he worked in Pompeii with the Freie Universität Berlin (Stabian Baths) and with the Università degli studi della Campania Luigi Vanvitelli (Sanctuary of Apollo). In 2016, he participated in the Italian-Greek mission in Festòs (Crete), and was a member of the team excavating the NE slopes of the Palatine in Rome from 2014 to 2016.
Giordano Iacomelli: Finds Lab Supervisor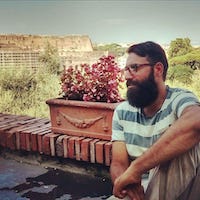 With both a BA and MA in Archaeological Field Methods from the Sapienza University of Rome (Prof. Panella), Giordano has dug for 9 seasons at the NE slopes of the Palatine. Since 2013, he has been a ceramicist for the Gabii Project and scientific collaborator of the Museo Civico di Tolfa. Between 2016 and 2018 he has carried out the study of amphorae from the excavation of the Horti Lamiani in Rome.
Dr. Giacomo Pardini: Numismatist
Giacomo Pardini (PhD, Salerno) is a Research Fellow in Ancient Numismatics in the Department of Cultural Heritage Science at the University of Salerno, where he teaches graduate level courses in Ancient Numismatics. He has led numerous archaeological excavations in Rome (Meta Sudans and NE slopes of the Palatine), at Monteleone Sabino (Trebula Mutuesca), and in Syria (Tell Barri/Kahat). His research focuses on the relationship between archaeological contexts and ancient numismatics, the interpretation of coins from excavation, monetary circulation in antiquity, and ancient trade. He has authored several papers on coin findings in particular from Rome and Pompeii, on the Augustan Meta Sudans, and on the Curiae Veteres sanctuary in Rome.
Arch. Carlo Monda: Safety Engineer
Carlo Monda is a registered architect specializing in health and safety engineering. He has designed, directed and coordinated numerous projects in the field of archaeological excavations and conservation, collaborating with important italian cultural institutions and international research institutions.
Dr. Sarah Buchanan: Data Curation and Archiving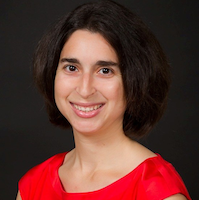 Sarah A. Buchanan is an Assistant Professor at the School of Information Science & Learning Technologies (iSchool) at the University of Missouri. She studies how people interact with cultural heritage, from museum and archival studies perspectives. A current research project, Archives of Classical Scholarship (ArCla), creates a directory to the archival papers of American classicists and classical archaeologists. Dr. Buchanan has also contributed to PeriodO, a linked data gazetteer of period definitions across scholarly fields; Visualizing Archival Data, a project to analyze the levels of archival arrangement in finding aids; and a project using RTI (Reflectance Transformation Imaging) technology to capture images and descriptive metadata for a museum teaching collection. See education.missouri.edu/person/sarah-buchanan/ for a faculty profile.
Kaoru Yui: Field Assistant (2018)
Kaoru Yui is a recent graduate of Mount Allison University. During her time at Mount Allison, she studied Art History and Classics. As her extracurricular, she took two internship positions at the Owens Art Gallery, as a Student Conservation Intern and as a Crake Art Intern. Working closely with the directory and the conservator of the gallery, as well as all of the other experience at Mount Allison, inspired and confirmed her passion for art conservation. She will be starting her master's in art conservation at Queen's University from September 2018.
Massimo Barretta: Finds Lab Supervisor (2017-2018)
Massimo Barretta was born in Sicily (1979) and grew up in the shadow of the "Valle dei Templi" of Agrigento. He graduated from the University of Palermo (2004) and specialized in classical archaeology in Matera with a thesis on the "Castrum of Metaponto" (2008). He has been a longtime collaborator with the Institute of Classical Archaeology at the University of Texas at Austin. He has dedicated himself to the study of ceramics and the drawing of archaeological materials. His main areas interest are the protohistoric and Archaic ages (Incoronata of Metaponto and Torre di Satriano at Potenza) and the Hellenistic-Roman period (Chora of Metaponto and Pompeii). He has done fieldwork in Pompeii, Himera, Torre di Satriano and Palmi. He also oversaw the staging of an antiquarium in Irsina (Matera).
Mariangela Pignataro: Trench Supervisor (2017)
I earned a BA in Cultural Heritage Sciences and an MA in Classical Archaeology from the University of Bari, specializing in the study of transport amphorae from the ancient town of Egnazia, on the Adriatic coast of Apulia. I then completed the post-graduate program in Archaeology at the University of Basilicata, Matera, with a thesis on one of the cemeteries of Difesa San Biagio.
I have been a staff member of the Progetto Egnazia (University of Bari) for 10 years, and participated in excavations and surveys in Basilicata, serving in various capacities as finds supervisor, finds school supervisor, field assistant and assistant trench supervisor.
My research interests is in Roman pottery, with a focus on transport amphorae and black gloss ware, in ancient restoration. Having collaborated in the organization of archaeological exhibitions, I am also interested in the management of archaeological finds. As a pottery specialist, I am currently involved with archaeological projects carried out by national and international research institutions in Apulia and Basilicata, ranging from rural landscapes, urban archaeology, underwater finds and funerary archaeology. I work as contract archaeologist for preemptive archaeology, salvage archaeology and the monitoring of soil disturbance in archaeologically sensitive areas.
For a list of my publications see: orcid.org/0000-0003-0290-2799
Francesca Patten: Field Assistant (2018)
Francesca Patten is a recent graduate of Brock University, where she completed a MA in Classics. Her MRP focused on Samnite building activities at the Temples of Apollo in Pompeii and Cumae. Her other research interests include gender and sexuality in the ancient world and urban development in Roman cities. Previously she completed a BA in Classics (Hons.) with a minor in History at Mount Allison University, where she was awarded a Summer Undergraduate Research Grant to research fortifications in pre-Roman Campania. In Fall 2018, Francesca will begin a Masters in Public Administration at Dalhousie University.