July 1, 2014
Zominthos Field Notes 2014: Introduction
---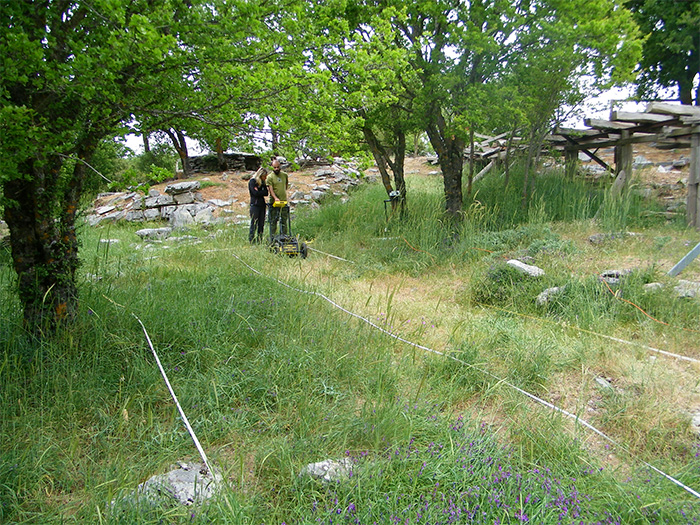 Preliminaries
The excavation of the Archaeological Society at Athens at Zominthos begins its new season on the 30th of June under the direction of Efi Sapouna-Sakellaraki. This year, the aim will be to continue the work in several areas of the Central Building, which started to be excavated in the previous years, and also expand the investigated area to other sections. The archaeological team of 2014 consists of 7 archaeologists: Yannis Georgiou, Eleni Christaki, Giorgos Georgakopoulos, Giorgis Kalomoiris, Yannos Petrou, Constantinos Stefanakos and Dimitris Kokkinakos and 1 archaeology student: Erato Vemou.
During the months leading to the 2014 excavation, a team of conservators has continued the task of restoring the frescoes and some of the pottery unearthed in the past years. Furthermore, works on the restoration of some walls of the Building have been undertaken. On May, a geomagnetic prospection survey took place under the supervision of Dr. Apostolos Sarris of the Geophysical-Satellite Remote Sensing and Archaeoenvironment Laboratory (FORTH – Institute of Mediterranean Studies) at unexcavated areas of the site to reveal possible architectural remains (fig.1).
This season's excavation will continue in the partly excavated Rooms 28, 53, 56, 11, 12, 41-43 and Corridor 21, while in Corridor 10 it will reach its conclusion (fig.2). Additionally, new trenches will be opened in Rooms 35 and 40 as well as in the area west of the Ceramic Workshop (Room 13).